Two Nonprofits Offer Rare Dental Care for Seniors on Medicaid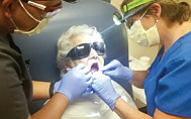 For many low-income and elderly adults, finding and paying for dental care is difficult - if not impossible. The state's Medicaid program offers below-average reimbursement rates, according to a recent American Dental Association survey. As a result, only about 29 percent of the state's dentists accept Medicaid, compared with about 42 percent nationwide.
And it's no secret that tooth decay and gum disease are linked to serious health problems, including heart disease and stroke.
Luckily, one dentist and two Seattle nonprofit organizations are stepping up by making sure the poorest and sickest seniors receive good dental care.
The program involves Dr. Allison Jacobs LeGendre, a veteran dentist who works with hundreds of these seniors at Foss Home and Village and at Providence ElderPlace, both in Seattle. Dr. LeGendre, who is affiliated with the University of Washington and has had a long career as a dentist and dental products designer, is trying to change the way frail seniors on Medicaid receive dental care.
First off, by partnering with these non-profit organizations, she's able to provide routine dental care – cleanings, extractions, fillings and dentures – to a population that otherwise had a very hard time finding dental care. Some of the Providence ElderPlace participants have had to wait years to see a dentist until Providence ElderPlace partnered with Foss in February.
Dr. LeGendre, who teaches a geriatric rotation to fourth year dental students at the Foss clinic, also is changing the way dental care is delivered to seniors. She's able to treat patients who have mouth pain but perhaps are too disoriented and agitated because of dementia that other dentists won't treat them. She can treat patients in wheelchairs without having to have them get out of their chairs; her dental chair is equipped with a wheelchair lift. She's able to treat the very sickest patients – those who are either in a nursing home or a nursing home alternative like Providence ElderPlace.
"I feel honored that Providence has given me the opportunity to provide for the needs of the patient first," she said. "We, as a healthcare team, are working toward improving patients' quality of life. Oral care is certainly an important part of that equation."
Instead of using traditional, expensive dental care, LeGendre looks for solutions designed not to outlive her patients. Crowns and implants are rare. Cavities are treated with a new oral chemotherapy agent approved by the FDA in July.
Velaa Chin, a Providence ElderPlace manager, said she spent one-and-a-half years trying to find a dentist for her Providence ElderPlace participants before Providence partnered with Foss. LeGendre has already seen more than 120 participants. "To have one reliable, consistent dentist that they can see all the time is comfortable for them. She's trustworthy. She's also given them tools, telling them how to brush their teeth. People could end up in the hospital because of dental problems," Chin said.
Proper dental care and oversight is important throughout life. But seniors are especially vulnerable to dental issues. Seniors are at a disproportionate risk for oral health problems including:
• Inadequate nutrition because of dry mouth, soreness, tooth loss.
• Dry mouth from medications that can lead to cavities and gum disease. In fact, more than 30 percent of older adults have untreated cavities.
• Chronic health issues such as diabetes, heart disease, stroke and respiratory disease.
The dental care that Foss residents and Providence ElderPlace participants receive enhances their quality of life by removing any barriers to eating nutritional food and reducing the possibility of further infection.
LeGendre calls her work a "living laboratory with my patients, trying to find them more creative solutions. I feel Providence is giving me the opportunity. They've un-tethered my hands. They say to do what the patient needs. A lot of it is basic, sensible care, which isn't necessarily showing up in the treatment plan from the last dentist. Better dental care will improve the quality of life," she said.
For more information, contact Providence ElderPlace at 206-320- 5325 or Foss at 206-364-1300.