Holy Batman - It's Adam West!
Hometown boy lays claim to growing up in both Seattle and Walla Walla
Oct 29, 2016, 5:52 p.m.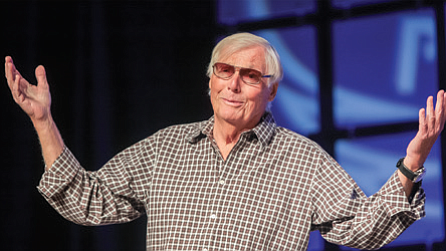 Adam West is best known for his role as Batman in the kitschy 60s television series. Although Batman lasted only from 1966 to 1968, it defined West's career.
The show celebrates its 50th anniversary this year, and can still be seen in syndication around the world.
West started life in Walla Walla on September 19, 1928 as William West Anderson. His father was a farmer, his mother an opera singer and concert pianist. West described his father as strong, kind and decent, his mother as beautiful, talented and headstrong. "Every VIP who happened to wander through our hometown found his or her way to our doorstep, victims of my mother's considerable charm." He and his younger brother listened from the stairway as the likes of Nelson Eddy, James Stewart, Alan Ladd and Lilly Pons laughed and sang at his mother's soirees.
His parents moved to California when West was an infant, but the family headed home when his mother's bid for fame didn't pan out. In the end, neither did the marriage.
After his parents' divorce, West grew up splitting his time between a farm 20 miles outside of Walla Walla and Seattle, where his mother and her neurosurgeon husband lived. He graduated from Seattle's Lakeside School: "After several false starts that landed me in trouble, (such as 'borrowing' the school bus for dates), I found my footing and got a real head start on life," said West about his time at Lakeside. He became a good athlete and was voted class president.
West graduated with a degree in literature from Walla Walla's Whitman College. He married his first wife while still in college, then started a graduate degree at Stanford where he dabbled in radio and reporting. This immediately led to a job producing radio shows and that was it—he became hooked on performing. But he was fired for being too "innovative." So he signed up for the Army and helped start a military television station. "Being involved in the new technology (of television) made me feel like Dr. Huer in the Buck Rogers strip," said West. His knack for deadpan comedy became apparent during this time.
After his stint in the Army, he worked as a milkman and received a medal for "milkmanship above and beyond the call of duty" for continuing his rounds during a hurricane!
But West was determined to find his way back into performing and jumped at the chance when a college buddy, who had become a local TV star in Hawaii, wrote to say, "come on out and you can be a star, too." While Hawaii proved fatal to his marriage, West did become the star of a local television show with a chimpanzee sidekick named Peaches. He also met his second wife in Hawaii. The couple had two kids and eventually parted on good terms, but not before their big move to Hollywood.
In Hawaii, West purchased a plane and learned to fly for extra money as an island tour guide. One of his clients turned out to be a movie producer who introduced West to his future agent. Within weeks, West had his first screen test in Hollywood.