The anti-inflammatory powers of spices
Flavorful and aromatic herbs and spices add pizazz to food without the salt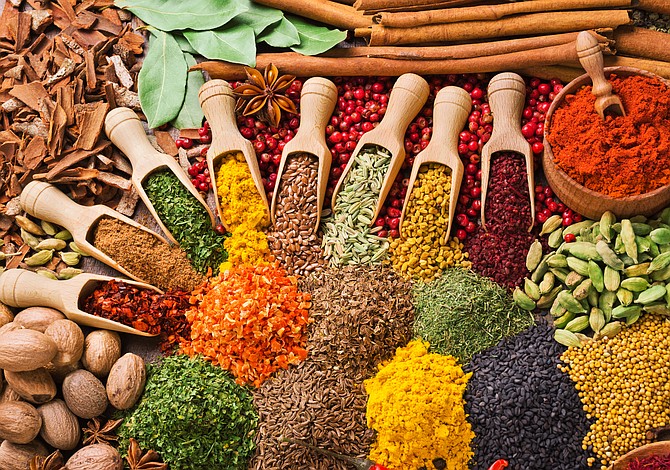 Using herbs and spices can add a new dimension to your cooking. They not only add great flavor profiles to your meals, they help cut down on sodium, which helps keep your heart and kidneys healthy. Another bonus: many spices may help protect against inflammation.
There is strong evidence that turmeric is anti-inflammatory and some evidence that it is protective to the kidneys. Turmeric can be even more powerful if mixed with cinnamon, which has been shown to help support blood sugar balance. Garlic is a great seasoning for its ability to support healthy blood pressure. A diet lower in meat is thought to be more anti-inflammatory, and soy has research supporting it as being anti-inflammatory. So, let's combine what we know about all these great seasonings into one great meal for better health!
Butter paneer
¼ cup butter
1 pound paneer, cubed (a fresh cheese common in South Asian cuisine)
1/2 cup chopped onion
1/4 cup minced or pressed garlic
1/4 cup chopped or grated fresh ginger
1 small diced green chili or 1 4-ounce can diced chili (optional)
1-2 teaspoons coriander powder
1 tablespoon cumin seeds
2 cups low-sodium canned tomatoes
1 teaspoon ground cardamom
Cinnamon stick
1-2 sliced red and yellow peppers
1 tablespoon turmeric
1 teaspoon curry powder
1/2 cup light coconut milk or yogurt
Heat half of butter in pan and fry paneer until golden brown. Set aside. Add onions, garlic, ginger and chili and cook until softened. Pour in coriander and cumin seeds and cook a few minutes, until seeds start popping. Add tomatoes, cardamom and cinnamon stick and simmer 10 to 15 minutes. Carefully transfer to blender and puree until smooth. Return paneer and sauce to the pan, add sliced peppers, turmeric and curry powder and heat through. Just before serving, add coconut milk or yogurt. Cook two more minutes, remove from heat, and serve.
Makes about six servings.
Nutritional information (per serving):
Calories: 301, Carbohydrates: 12 grams, Protein: 8 grams, Sodium: 233 milligrams
Fiona's sautéed fresh greens
¾ pound (4 cups firmly packed) greens: mustard, collard, kale, or mixed
1 tablespoon olive oil
1 cup thinly sliced onion
¼ teaspoon ground turmeric
½ teaspoon sugar
1 tablespoon low-sodium soy sauce
1 tablespoon pineapple juice
½ cup white wine or rice vinegar
¼- ½ teaspoon sesame oil and sesame seeds
Cut greens into 2-inch-long strands. Heat the oil in fry pan or wok. Sauté onion until translucent, about two minutes. Sprinkle turmeric over onion. Add greens. Sprinkle with sugar and cover. Reduce heat and let greens steam in their own juices until tender, about 5-8 minutes. Uncover and turn occasionally, add a little water if greens are sticking. Remove greens with a slotted spoon, leaving juices in pan. Add soy sauce, pineapple juice and wine or rice vinegar. Heat until boiling. When sauce has thickened slightly, remove from pan and pour over greens and serve. Garnish with sesame oil and seeds. Serves 4-6.
Nutritional information (per serving):
Calories: 48, Carbohydrates: 5 grams, Protein: 1 gram, Sodium: 121 milligrams