Basel: beyond description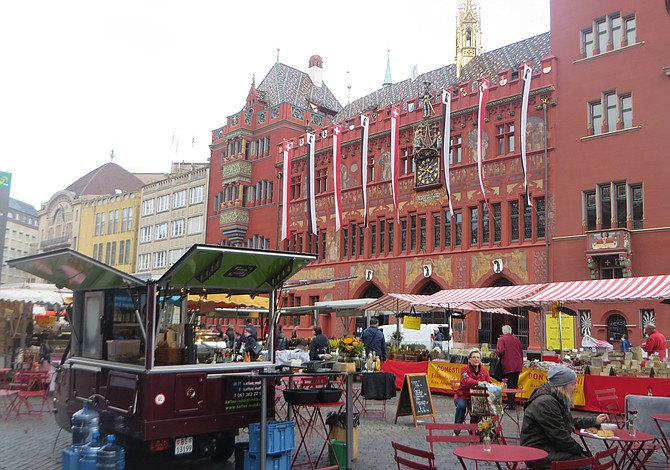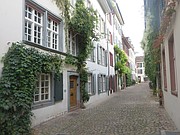 Single word descriptions of Basel don't do this Swiss city justice. Titles such as "Cultural Capital of Switzerland" or "Oldest University Town" barely scrape the surface when trying to characterize this eclectic and exciting town. Attempts at encompassing the rich variety of cultural and historical sights, as well fun leisure activities available in Basel under one heading are simply futile. Resist the impulse to box this city in; instead, give yourself free rein to use as many terms as necessary to showcase this exhilarating destination.
Location wise, Basel can't be beat. It's a central transport hub for Europe and lies on a three-country cornerstone or tripoint where Switzerland, Germany and France meet. The city is very accessible, as there are a variety of options whether you come by plane, rail, boat, car or even bicycle. Once you've arrived, exploring the town is easy with its many trams and buses, but you'll probably want to do most of your meanderings on foot in order to fully experience the charms of this alluring locale. You'll soon discover that although Basel is a small town with less than 200,000 people, it has a big city feel due to its world class attractions and high quality of life.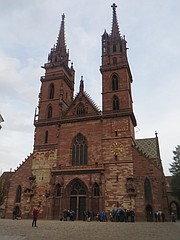 Basel can look back on over 2,000 years of history, which continues to be alive and well today within the city's quaint Old Town, at its numerous museums or among its storied traditions. The narrow alleyways and hidden squares of Old Town lead to splendid 15th century buildings and eye-catching sights, making this section of Basel one of the most beautiful and intact of its kind in Europe. The city's beloved landmark is the Cathedral, a Romanesque and gothic style behemoth of red sandstone that dates back to the 12th century. Erasmus, the famed Dutch Renaissance humanist, Catholic priest, social critic and theologian, is buried here. Make sure you climb up to the observation platform, where you can enjoy a spectacular view overlooking the Rhine. Spend time in the square around the church, as it's a great spot to people watch or catch one of the town's many festive events.
Also in the midst of Old Town is City Hall, the seat of the Basel government and its parliament. You can't miss the building with its bright red façade, characteristic tower and playful frescoes. Step into the courtyard for a glimpse of the imposing statue of Munatius Plancus, the founder of the first Roman settlement in the region. If you're curious about the inside of this historical structure, opt to take one of the regularly scheduled tours of the place with Basel Tourism. Then meander the stalls around the piazza out front, which is called Marktplatz. There you'll find fresh flowers, produce and specialties from the region. It's a popular shopping spot for residents, and for visitors, it's a treat to check out (and sample) local goods and delicacies. The selection of cheeses is mindboggling, as is the array of different kinds of bread, honey and wine.