Hot soups for cold days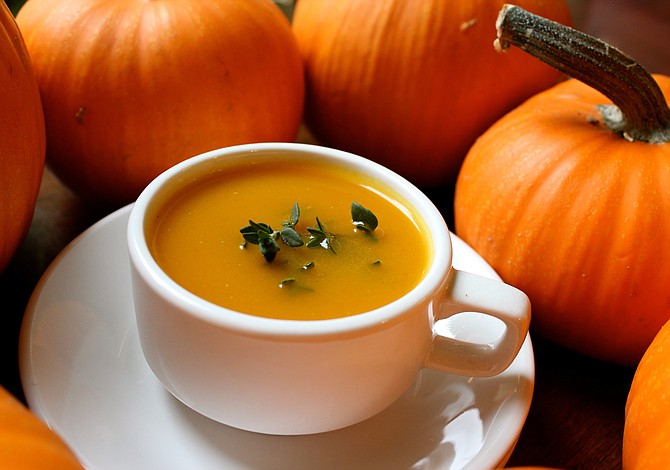 Soups are great for cold winter days. But they can be stuffed full of salt, which none of us need. Just one cup of soup from a store-bought can has about 1,800 milligrams of sodium, shooting you past or at your whole day's recommended sodium limit of 1,500 milligrams to 2,000 mg.
That much canned soup has only 120 calories, not enough to really fill you up. So after the soup, you will eat more food, and go beyond your sodium goal for the day, damaging your heart and kidneys.
Instead of soup in cans, try these homemade soups, which are more hearty and flavorful, while being low in sodium. You can freeze extra to save for a busy weeknight, saving yourself even more time, money and salt.

Squash, pumpkin, root vegetables and potatoes all make great winter soups, and they will keep you warm and full long after the salty stuff in the can has left you feeling hungry again.
Pumpkin soup
1 chopped onion
3 cloves garlic, minced
1 cup sliced mushrooms
2 tablespoons oil
2 cups water
2 cups low-sodium vegetable broth
2 cups canned pumpkin
Rind of Parmesan cheese if you have it
1 tablespoon fresh thyme
1 tablespoon chopped fresh sage
Sauté onion, garlic and mushrooms in oil until caramelized and nicely browned. Add water, broth and pumpkin. If it's too thick, add more water. Add Parmesan rind. Simmer for about 30 minutes, stirring occasionally to keep from sticking. Add fresh herbs ten minutes before serving.
Nutritional information (per serving, 1 cup):
Calories: 68, Carbohydrates: 7 grams, Protein: 3 grams, Sodium: 28 milligrams
Kohlrabi soup
3 pounds kohlrabi
1 pound celery root
½ pound potatoes
2 tablespoons butter
1 cup chopped onions
1-2 ½ quart vegetable broth
1 cup light cream
Salt and freshly ground pepper
Nutmeg
Peel the kohlrabi, celery root and potatoes and cut into chunks. In a large saucepan, heat the butter and cook the onions until wilted, about 5 minutes. Add the vegetables and 2 quarts broth, bringing to a boil. Reduce heat and simmer until the vegetables are tender, about 25 to 30 minutes.

Place some of the vegetables and broth into a blender and puree until completely smooth; repeat until all the vegetables and broth are combined. Return to heat and add the cream, salt, pepper and a dash of nutmeg. Thin with additional broth if desired.

Nutritional information (per serving, 1 cup):
Calories: 76, Carbohydrates: 9 grams, Protein: 3 grams, Sodium: 81 milligrams
The information in this column is meant for people who want to keep their kidneys healthy and blood pressure down by following a low-sodium diet. In most cases, except for dialysis patients, a diet high in potassium is thought to help lower high blood pressure. These recipes are not intended for people on dialysis without the supervision of a registered dietitian.

[Katy G. Wilkens is a registered dietitian and department head at Northwest Kidney Centers. A recipient of the Susan Knapp Excellence in Education Award from the National Kidney Foundation Council on Renal Nutrition, she has a Master of Science degree in nutritional sciences from the University of Washington. See more of her recipes at www.nwkidney.org.]