Crazy about chocolate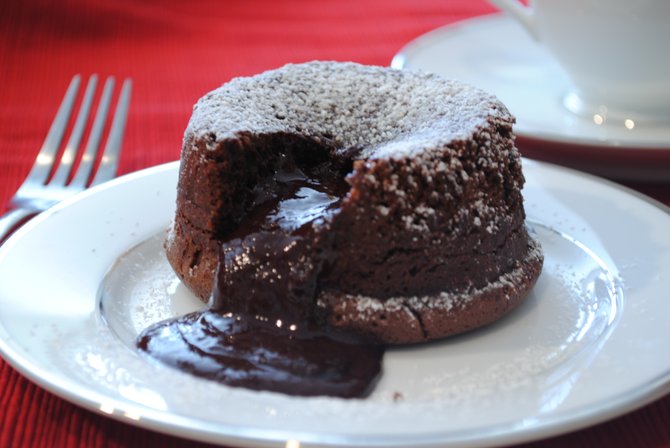 Most would agree that chocolate is one of the best treats for indulgence. But why is it so pleasing? Interestingly, one of the main reasons chocolate has such universal appeal has to do not with its flavor, but its texture.
Chocolate is special in that its fat molecules have melting points just below body temperature. This gives chocolate its creamy texture and "melts in your mouth" feel.

Chocolate is high in flavonoids, which are a kind of antioxidant. Dark chocolate and cocoa powder have more antioxidants than other chocolate. You also can get flavonoids from fruits and veggies – usually for a lot fewer calories.
So if you are eating chocolate for your health (what a good excuse!), use dark chocolate for its lower sugar content, or better yet, use cocoa powder, in your baking. For 1 ounce of unsweetened chocolate, substitute 3 tablespoons dry cocoa + 2 tablespoons sugar + 1 tablespoon of vegetable oil.
By the way, most chocolate recipes don't need salt, which can contribute to heart and kidney problems. If your favorite chocolate recipe calls for salt, try leaving it out and instead add a teaspoon of vanilla, a healthier flavor enhancer.
Molten chocolate cakes
2 tablespoons butter, for greasing tin
2 teaspoons sugar
1 stick unsalted butter
1/2 teaspoon ground cinnamon
Pinch of cayenne pepper
Pinch of nutmeg
6 ounces semisweet chocolate, chopped
1/2 cup all-purpose flour
1 ¼ cups powdered sugar
3 large eggs
3 large egg yolks
1 teaspoon vanilla
1/4 teaspoon almond extract
Preheat oven to 400 degrees. Grease muffin tin, then sprinkle with granulated sugar. In a saucepan or double boiler, combine the butter, cinnamon, cayenne, nutmeg and chocolate over low heat. Stir frequently until melted and smooth. Let cool slightly. In large bowl, whisk together flour, powdered sugar, eggs and yolks, and vanilla and almond extracts until creamy. Add melted chocolate to batter and fold in. Fill prepared tin about two-thirds full for each cake. Bake until tops are stiff and cracked and the edges darken, 12 to 14 minutes. Cool about 5 minutes. Loosen edges of cakes, then invert onto plates while warm. These freeze well, if you want to save them for a rainy day!
Serves 12.
Nutritional information (per serving):
Calories: 268, Carbohydrates: 28 grams, Protein: 4 grams, Sodium: 22 milligrams
Low-sugar chocolate orange cookies
This is a great chocolate treat for anyone with diabetes.
1½ cups flour
½ cup unsweetened cocoa
1½ teaspoons baking powder (low-sodium, if you can find it)
½ cup plus 1 tablespoon margarine or butter
2 tablespoons powdered artificial sweetener*
2 eggs
1/3 cup orange juice
1 cup raisins or chocolate chips
Preheat oven to 375 degrees. Whisk together flour, cocoa and baking powder. Beat butter or margarine at medium speed until creamy, beat in artificial sweetener. Add eggs, one at time, and beat in well. Add dry ingredients alternately with orange juice. Stir in raisins or chocolate chips. Drop by the teaspoon on ungreased baking sheets. Bake 8-10 minutes.

Use a sweetener that has an equivalent of one teaspoon to ¼ cup sugar.
Yields 4 dozen cookies.
Nutritional information (per serving, two cookies):
Calories: 123, Carbohydrates: 14 grams, Protein: 2 grams, Sodium: 8 milligrams
The information in this column is meant for people who want to keep their kidneys healthy and blood pressure down by following a low-sodium diet. In most cases, except for dialysis patients, a diet high in potassium is thought to help lower high blood pressure. These recipes are not intended for people on dialysis without the supervision of a registered dietitian.

[Katy G. Wilkens is a registered dietitian and department head at Northwest Kidney Centers. The 2014 recipient of National Kidney Foundation Council on Renal Nutrition's Susan Knapp Excellence in Education Award, she has a Master of Science degree in nutritional sciences from the University of Washington. See more of her recipes at www.nwkidney.org.]