Free eBook--Making Mud Angels: Winning Strategies for Tough Times
Sharing Stories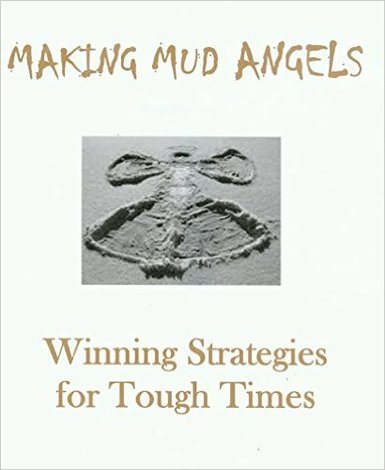 Free eBook until midnight Wednesday January 27th. Making Mud Angels: Winning Strategies for Tough Times was written to provide help with our changing world and economy; health problems or disabilities, including terminal or chronic illnesses; losses and potential losses like death, divorce, or suicide; relationship issues and struggles; career crises; loss of a job or career status; financial woes like bankruptcy or debt; life transitions like childbirth or menopause or aging; victimization through crime or abuse; exposure to a public tragedy like 9/11; and emotional problems like depression or anxiety.
Making Mud Angels offers tried and true answers for new problems. The Action Plans have been added to provide structure, an easy to follow blueprint for success. Create a calendar of Action Plans to undertake or turn to random pages for intuitive on-the-spot support.
This book was born in bits and pieces as my personal form of emotional first aid. Often, a friend or relative has shared some folk wisdom or common sense advice that has helped me through a tough time. I've found that these proverbs can allay fears and strengthen resolve. During my times of trouble, simple changes based on these simple sayings have frequently come to my rescue.
Consider my free books a friendly hand reaching out to take yours when you need it.
I have at least one free eBook every Saturday through midnight on Wednesday. (Except for holiday weekends.) So, something free every day of every week, except for Thursdays and Fridays.)
Get Making Mud Angels at http://www.amazon.com/dp/B00S0JD7M6
SHARING STORIES is a weekly column for and about the 50 plus crowd living in the Puget Sound region. Send your stories and photos to ariele@comcast.net. Tell local or personal stories; discuss concerns around aging and other issues; share solutions, good luck, and reasons to celebrate; poems are fine too. Pieces may be edited or excerpted. We reserve the right to select among pieces. Photos are always a plus and a one-sentence bio is requested (where you live, maybe age or career, retired status, etc.).
SHARING STORIES is featured on www.northwestprimetime.com, the website for Northwest Prime Time, a monthly publication for baby boomers, seniors, retirees, and those contemplating retirement. The newspaper can be found in the greater Seattle area and other Puget Sound locations. For more information, call 206-824-8600 or visit www.northwestprimetime.com. To find other SHARING STORIES articles on this website type "sharing stories" in the search function above.