Big Bend beckons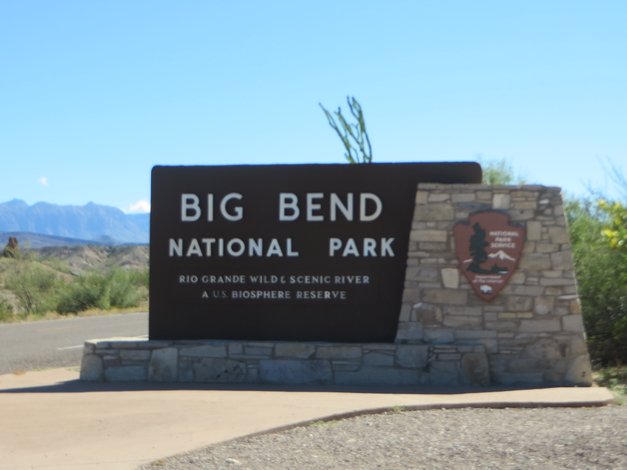 I had no control over my burro. The spirited creature obviously had a mind of his own as he took off at a fast clip, then veered over and attempted to squeeze between two of his friends. At one point my stirrups hooked onto those of another rider's and we were locked leg to leg. Laughing uncontrollably, we bounced down the road like two Siamese twins linked together, eventually arriving at our destination – the tiny village of Boquillas, Mexico. Easing off my animal in a most ungraceful way, I decided that burro riding did not rank among my favorite means of transportation.
To get to Boquillas, a border crossing is involved. It's the shortest journey between two countries you'll ever make, taking mere minutes. The Boquillas Border Crossing between the U.S. and Mexico reopened in 2013 after a closure of more than a decade. This "pedestrian only" crossing allows visitors to go from a designated area of Big Bend National Park in Texas to Boquillas, Mexico, with the Rio Grande as the border. You'll need to show your passport before hopping into a rowboat for the river crossing. If you're lucky, you might get to meet Boquillas' judge, Jaime Ureste, who also doubles as an oarsman. Once you're on the other side, burros and horses are waiting to take you the mile into town to your first stop – a nondescript white trailer which serves as the Mexican immigration office.
Boquillas, population 300 or so, is a humble village where the residents sell a variety of handicrafts and invite you to eat at one of the two restaurants available. To dine with a river view, opt for Jose Falcon, where the margaritas are made with Fresca and you can get a variety of typical Mexican dishes. The locals are eager to be your guide as you walk around the area, pointing out the solar panel station, school, church and the few other sites of note. You'll find people to be friendly and hospitable, though it's difficult to ignore the poverty that's prevalent in this economically-depressed town.
Visiting Boquillas is just one of the many adventures that awaits visitors to Big Bend National Park. Encompassing more than 800,000 acres of rugged mountains, rolling desert expanses and deep river canyons, the park is the king of the state's national public areas. A land of contrasts, Big Bend contains geological marvels, historic and prehistoric treasures and an amazing diversity of plant and animal life across its range of elevations. Its epic grandeur has created an almost mythic status among those who find their way to this land of enchantment.
Located in far West Texas, the park is nestled in the bend of the Rio Grande River along the Texas-Mexico border. It's a long way from anywhere, but getting there can be part of the fun. If you're flying, the closest airport is Midland/Odessa. From there, you'll have about a 200 mile drive to the park's east entrance. Along the way, stop in Fort Stockton, if only to see Paisano Pete, one of the most recognizable roadside attractions in the Southwest. The town's unofficial mascot was erected in 1980 and declared the largest roadrunner in the world at 11 feet tall and 22 feet long. "Pete" has been an enduring symbol of the community since his arrival and is one of the most photographed "birds" in the world.
You also might want to stop for an overnight in Marathon, a quaint high desert town that serves as the gateway to the park. Some folks make it their base as it's centrally located to many of the area's attractions. There are a variety of lodging options in Marathon including the renowned Gage Hotel, recently ranked the top hotel in Texas by Conde Naste. This distinctive historical property has been designated a Texas treasure. Each room is finely appointed with artifacts and authentic furnishings from the diverse cultures of West Texas. Dining at the hotel's 12 Gage Restaurant is a must. The award-winning establishment offers Texas inspired specialties with a gourmet twist. In the upscale dining room, you'll be surrounded by cowboy chic décor, while the outdoor patio with its fireplaces and fountains provides an intimate and romantic al fresco setting. There's also a full service spa, swimming pool and fitness center on site, as well as nearby Gage Gardens – 27 lush acres with lovely ponds, fountains, rose garden, vineyard, fruit orchard, native landscaped park, walking trail and nine-hole putting green.
Eve's Garden is another unique lodging option in Marathon. This innovative organic B&B is made with papercrete, a light-weight, alternative building material comprised of a mixture of recycled paper, sand, clay and cement. The place is a remarkable feat that's been a labor of love for owner Kate Thayer, along with her son Noble Baker and daughter-in-law Alaine Berg, as well as former construction manager, Clyde Curry. Large indoor organic gardens bloom with roses, bougainvillea and countless flowers, while the seven distinct, handcrafted guest rooms open to a central covered courtyard with a pond and tea room. Walls are painted in contemporary Mexican colors that give the space a bright, joyful aura and local artwork is incorporated within the decor. There's even a solar-heated lap pool and a stargazing deck to take in those memorable starry Texas nights.
For those who wish to stay right in Big Bend, there's one lodge in the park, as well as several campgrounds. The Chisos Mountain Lodge, located in the Chisos Basin, is a well-situated, full-service property. From there you can access many popular day hikes and major sites of interest. To orient yourself, make sure to stop at the Panther Junction Visitor Center, where you'll find friendly park rangers ready to answer all your questions. They'll steer you in the direction of the perfect hike. With over 200 miles of trail, it's helpful to get some guidance. There are also several interactive exhibits at the center which provide an overview of geology and natural and cultural histories of the park, as well as an introductory movie that does a commendable job of showcasing the park's bold landscape.
Chisos Mountains Basin, which is nestled among the stunning, cloud-kissed Chisos Mountain peaks, is in the heart of Big Bend. These spectacularly eroded mountains rise nearly 8,000 feet and are akin to an island in the desert. If you have limited time, take a walk along the Window View Trail for easy access to mountain vistas and a memorable sunset view. The Basin Loop is another short hike for an overlook of the basin area. For a hike with elevation, take the Lost Mine trail. It's of medium distance and difficulty and provides a maximum of views, but no mine. The trail gets its name from a legend that suggests that a secret mine existed in the area. Story has it that workers were blindfolded before being brought to the mine to work, thus they could not disclose the location of the mine. Later, they were supposedly killed by local Comanche and the mine closed up to hide its location. As you're hiking, you'll spot Casa Grande Peak, and once you're at the top, you'll be rewarded with a magnificent vista of Juniper Canyon and the South Rim.
Another highlight in the park is the Ross Maxwell Scenic Drive. Big Bend's geologic splendor is on display via the many scenic overlooks and exhibits along this route. Of note is Castolon Peak with its multiple layers revealing millions of years of volcanic events, and Mule Ears, a formation that fits its name to a tee. Continue the drive to famed Santa Elena Canyon, where towering limestone cliffs rise 1,500 feet above the Rio Grande. One feels small and insignificant against these massive walls which appear as sentinels within this unique environment.
Big Bend boasts numerous ecotones, formed by river, desert and mountains. This variety results in an array of habitats which support more species of birds, plants, butterflies, bats, reptiles and cacti than any other national park in the country. The park is a well-known birders' paradise, as it's along a migration route and ideal for bird diversity throughout the year. People come from all over to spot the Colima warbler, the rock star of birds in Big Bend. The only place this bird is found within the U.S. is in the Chisos Mountains.
During my stay in the park, the creatures that were most prevalent seemed to be roadrunners and javelinas; both of which are fascinating to observe. Running at speeds up to 20 mph, the roadrunner pursues lizards and small rattlesnakes, which it pecks to death with blows of its beak. The javelina, though pig-like in appearance, is a peccary, and not a member of the swine family as I had previously assumed. One walked right in front of our group as we walked down a trail at Boquillas. It didn't even bother to give us a glance, preferring to go about its business without acknowledging our presence. I remarked to my companions that the creature looked very primordial with Old World origins.
After a day on the trail, a sunset soak in Langford Hot Springs is the perfect way to relax. This historic geothermal spring is adjacent to the Rio Grande and its naturally heated water is known for its healing powers. Locals and visitors have sworn by it since the baths were first developed in 1906. Though Langford's once impressive bathhouse is long gone, the spring is still contained by the foundation remains of the structure. Soaking in the 105 degree water felt heavenly and of course the unparalleled scenery was a bonus. To top it off, as we left, there was a double rainbow, followed by a glorious sunset that lit up the sky with intense hues.
Activities not only abound in Big Bend, but within the nearby communities of Lajitas and Terlingua; both destinations that are rich in Old West history. Located in the lowland desert between the National Park and Big Bend Ranch State Park, these towns offer plenty of lodging and dining options, along with a host of outdoor adventures from mild to wild. A trail ride with Lajitas Stables, for example, will take you into Big Bend Ranch State Park through arroyos and along canyon rims, to Lajitas Mesa where the territorial views are striking. The horses climb up and down steep rocky paths like sure-footed mountain goats. Opt for a half-day ride with lunch and you'll be treated to a smorgasbord of smoked chicken, black bean salad or "Texas caviar" as the locals call it, cheese, fruit, olives and other assorted goodies. The trail guides are knowledgeable about the area and will regale you with historical and geological information, as well as common horse sense – something I am always in desperate need of!
For a different perspective of the area and another unforgettable way to encounter the remote wilderness of Big Bend, take a river trip with Far Flung Adventures in Terlingua. Water flow conditions and time of year, as well as length of trip, will dictate which section of the Rio Grande you will raft. Rest assured, it doesn't really matter where you go, as the scenery along this mighty waterway is magical. You'll be wowed by the narrow, shadowy canyons and gigantic, steep walls, and if you're lucky, you might see or hear red-tailed hawks as they soar and scream high above the rocks. Look for all the turtles sunning themselves on rocks at the river's edge.
Lajitas is also home to the Lajitas Golf Resort, a 27,000-acre property featuring a world class 18-hole course, spa, pool, zipline, shooting range, equestrian center, shops, restaurants and more. I found out the hard way that I'm definitely not Annie Oakley when I tried out the resort's "Cowboy Action Shoot." Though I'd been to a sporting clay skeet shooting facility once years ago, I'd never handled a gun with live ammo before and it was very daunting. During the course of the session, participants are given a pistol, rifle and double barrel shotgun to use on targets that have been set up within a façade of an old Western town dubbed "Stargazer Springs." Safety and proper handling technique was the priority at all times, but I still felt nervous, which I'm sure affected my ability to shoot with any amount of accuracy. I quickly got used to the instructor telling me my shots were too high, too low, too far to the right or to the left. On the rare occasion I was successful, I attributed it to just plain luck, as I had no idea how it happened.
While you're in Lajitas, I recommend making a courtesy visit to the mayor, as this will be one encounter with a politician I guarantee you'll never forget. The illustrious Clay Henry III currently serves in this office. He is a beer drinking goat – third in a line of others of his breed – who was elected mayor of the town. His slate of opponents included a three-legged dog and a wooden Indian. The election was "bought," as in order to vote, you had to pay a buck for the candidate of your choice. Story has it that Clay Henry regularly breaks out of his pen and corners his constituency in pursuit of his favorite beverage. When we visited the eminent mayor, he was eating and not available for interviews!
The nearby town of Terlingua is another quirky and fun destination that often flies under the radar. Many folks are unaware that the town is the site of two distinguished chili cook-offs; the Chili Appreciation Society International and the Frank X. Tolbert/Wick Fowler World Chili Championships. Over 10,000 "chiliheads" participate in these competitions.
In addition to its chili contest reputation, Terlingua also gets props for having its own ghost town. The Terlingua Ghost Town holds the largest concentration of mining architecture in the region dating back to the early 1900s; now restored as shops, restaurants and homes. Guided tours of the area are available with the opportunity to learn about a place where "plumbing is optional, the sky serves as the water district and electricity is something you provide for yourself."
Nearby, the Terlingua Cemetery offers a glimpse into the past, when mining was arduous work amid such a primitive landscape. Wooden crosses mark stone-covered graves of people killed in mining accidents and the influenza epidemic of 1918. If you happen to be in Terlingua for Dia de los Muertos, or the Day of the Dead, the cemetery is the place to be. Locals decorate the graves, create elaborate altars, light candles and gather together to break bread in a community feast. Many individuals adorn themselves in costumes befitting the occasion. It's a traditional celebration marked by beauty, solemnity and peace.
For all things Big Bend: www.visitbigbend.com
Deborah Stone is a travel and lifestyle writer, who explores the globe in search of unique destinations and experiences to share with her readers. She's an avid adventurer who welcomes new opportunities to increase awareness and enthusiasm for travel and cross-cultural connections. Her stories appear in a number of publications as well as on various travel websites. Additionally, she can be frequently be heard dishing travel with the hosts of the NPR-affiliated and AARP produced talk radio show, "2 Boomer Babes." Deborah is a longtime Seattle area resident, who currently resides in Santa Fe, New Mexico.