"Choosing To Live With Joy"
Sharing Stories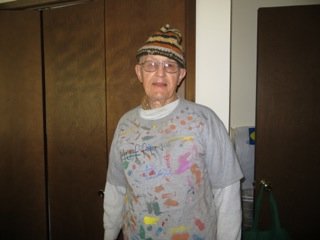 "Choosing To Live With Joy"
The intent of this poem: To encourage clearing your
mind of harmful thoughts such as jealousy, hate,
anger, prejudice, etc. and day by day, replace them
with thoughts that bring you joy to share with others.
Day by day you have a choice.
You live by the quality of your "conscious" and your inner voice.
As time goes by, carefully choose what you mostly think.
Every thought is an intention, hope, or reason for something.
Realize that you have two minds, conscious and unconscious.
Either can harbor thoughts of misery or thoughts of joy.
What you mostly keep on your mind is what you get.
That is something on which you can bet!
It is best to heed what can bring you joy.
Those are the things that float you like a buoy.
The thoughts you harbor in your thinking space,
set the tempo of your daily pace.
Day by day you have a choice.
You live by the quality of your inner voice.
©2105 Robert J. Barta
Author's Summary of the meaning of the stanzas:
As time goes by, take good care of your mind,
consistently harboring joyful thoughts day by day.
The quality of your life is directly related to the
quality of your thoughts.
Choosing positive thoughts helps you control and
manage both your conscious and your unconscious
moods and mental processes.
The thoughts you mostly concentrate on are what control
the direction and condition of your life.
Day by day you have the power to choose the kinds of
thoughts that can bring you joy or misery. Your miserable
thoughts affect your behavior and can also affect others negatively.
What you harbor in your mind and mostly think about
governs the quality of your life. Choose well. Good luck.
Author's Challenge: Re-read and write your own interpretation to add value to the poem.
Shoreline resident, Bob Barta (retired teacher) is an amateur photographer and author of practical poems for teens and teachers. Practical Poetry website http://www.fivestarteacher.com
SHARING STORIES is a weekly column for and about the 50 plus crowd living in the Puget Sound region. Send your stories and photos to ariele@comcast.net. Tell local or personal stories; discuss concerns around aging and other issues; share solutions, good luck, and reasons to celebrate; poems are fine too. Pieces may be edited or excerpted. We reserve the right to select among pieces. Photos are always a plus and a one-sentence bio is requested (where you live, maybe age or career, retired status, etc.).
SHARING STORIES is featured on www.northwestprimetime.com, the website for Northwest Prime Time, a monthly publication for baby boomers, seniors, retirees, and those contemplating retirement. The newspaper can be found in the greater Seattle area and other Puget Sound locations. For more information, call 206-824-8600 or visit www.northwestprimetime.com. To find other SHARING STORIES articles on this website type "sharing stories" in the search function above.