Umami-flavored soups lead to winter yum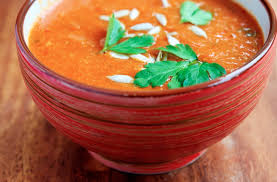 Nothing beats a bowl of hot, homemade soup on a cold winter's day. It's great for lunch when I come in from gardening with rain dripping down my neck, and it also makes for a tasty simple dinner.
Homemade soups are much better than canned soup because you can slowly cook them to develop that wonderful umami flavor that we all enjoy. Known as the fifth taste (sweet, salty, sour and bitter are the other four), umami is the meaty, brothy taste of glutamate, a protein that is released when food is slow-cooked. When you use umami-flavored foods in your cooking, you don't need high-salt seasonings that raise blood pressure and ruin your kidneys.
Some foods have umami flavor on their own: parmesan cheese, mushrooms, slow-cooked tomatoes, oven-baked potatoes. All these foods can add flavor without any harmful salt.
Try these recipes for hearty winter soups and taste the delicious umami!
Italian Red Pepper Tomato Soup
2 tablespoons olive oil
2 medium onions, halved and thinly sliced
6 garlic cloves, minced
½ teaspoon Spanish or Hungarian paprika, or regular sweet paprika
½ cup hulled red lentils, rinsed and sorted to remove debris
3 fresh red peppers, roasted
1 28-ounce can diced tomatoes
1 1/3 cups salt-free vegetable broth, or water
2/3 cup powdered nonfat dry milk
1 tablespoon red wine vinegar
¼ cup sliced almonds, toasted
Parmesan cheese
Heat olive oil in a large pot over medium-high heat. Add onions, cover, reduce heat to medium and cook, stirring occasionally until onions are very soft but not browned. Add garlic and cook, uncovered, until soft, about three minutes. Stir in paprika, cook one minute. Add lentils, peppers, tomatoes and broth. Bring to boil, reduce heat to maintain a steady simmer, cover and cook until lentils are extremely soft, about 30 minutes. In three batches, whirl soup in a blender or processor until very smooth, for at least three minutes per batch. Add dry milk and vinegar to the last batch. Stir together. Serve topped with a sprinkle of almonds and Parmesan cheese.
Nutritional information (per cup):
Calories: 158, Carbohydrates: 21 grams, Protein: 8 grams, Fat: 5 grams, Sodium: 202 milligrams
Thai Pumpkin Soup
1 tablespoon cooking oil
3 celery stalks, chopped
1 large onion, chopped
2-inch piece of ginger, cut in quarter- inch slices
1 tablespoon yellow or black mustard seeds
3 cloves garlic, minced
1 large can pumpkin puree (not pie filling)
½ to 1 teaspoon cayenne pepper
3 stalks fresh lemon grass, dried lemon grass or lemon grass paste
¼ cup low-fat coconut milk
Garnish: salt-free peanuts or chopped cilantro leaves
Sauté celery, onion and ginger in oil, add mustard seeds and garlic when onions are lightly browned. Heat until mustard seeds start to pop, then add pumpkin, cayenne pepper and lemon grass. Let simmer, stirring occasionally, for about 30 minutes. Remove ginger and lemon grass. Puree soup in food processor or blender. Stir in coconut milk and serve garnished with sprinkle of peanuts and/or chopped cilantro.
Nutritional information (per cup):
Calories: 102, Carbohydrates: 17 grams, Protein: 3 grams, Fat: 4 grams, Sodium: 35 milligrams
The information in this column is meant for people who want to keep their kidneys healthy and blood pressure down by following a low-sodium diet. In most cases, except for dialysis patients, a diet high in potassium is thought to help lower high blood pressure. These recipes are not intended for people on dialysis without the supervision of a registered dietitian.
[Katy G. Wilkens is a registered dietitian and department head at Northwest Kidney Centers. A recipient of the Susan Knapp Excellence in Education Award from the National Kidney Foundation Council on Renal Nutrition, she has a Master of Science degree in nutritional sciences from the University of Washington. See more of her recipes at www.nwkidney.org.]