The Art of Alzheimer's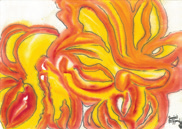 The first exhibition of its kind in Seattle, The Art of Alzheimer's: The Artist Within, opens January 7 in Seattle City Hall's Lobby Gallery. The exhibit features 50 artworks by individuals, ages 60 to 101, living with Alzheimer's and other dementias.
"These surprising, delightful and inspiring works of art open hearts and minds to a different way of thinking about dementia," say exhibit organizers. "They allow the viewer to see that— though the mind of the artist has changed—they are still here, living with dignity, creativity and joy." The exhibition closes February 26, 2016.
"Art of Alzheimer's" founder, Marilyn Raichle, explains her personal connection. "I was raised in the shadow of Alzheimer's with nearly everyone on my father's side and many on mother's side developing the disease. We were taught that when Alzheimer's arrived, it was like a death—actually worse than death. Our parents warned us, 'Don't sacrifice your lives for us. When our time comes, just walk away.' And I believed it. Then Mom began to paint. These paintings were amazing. She had never painted a day in her life yet these paintings were really good! They were always interesting and sometimes remarkable. Slowly, I began to understand. She may have had a short term memory of about ten seconds, but she was still here—loving, creative and joyful."
Marilyn began to share her mother's art with others and the reaction was always the same—delight, surprise and gratitude. People wanted to experience a story about Alzheimer's with hope and joy. She believes this exhibition sparks a new perspective on what it means to live with dementia.
For more information about The Art of Alzheimer's project, visit theartofalzheimers.net
The exhibit is free and open to the public. It runs from January 7 through February 26, Monday through Friday, 7am to 6pm at Seattle City Hall lobby gallery, located at 600 4th Avenue in Seattle. For more information about the City Hall Gallery, visit www.seattle.gov/arts/galleries or call curator Deborah Paine at 206-684-7132
MORE INFORMATION
Special events in conjunction with the Art of Alzheimer's Exhibit – All events take place at Seattle City Hall, 600 4th Avenue in Seattle, and are free and open to the public:
• January 7, 4pm – 6pm City Hall Lobby Gallery
Meet artists and their families. Enjoy light hors d'oeuvres, learn about art programs.
• January 13, 12 noon City Hall Lobby Gallery
Discussion led by medical experts from the University of Washington
• January 20, 12:30pm City Hall Lobby Gallery
Poetry reading from three artists who share their experiences with dementia
• February 5, noon – 2pm City Hall Lobby Gallery/ Room L280
Songwriting workshop. Judith-Kate Freidman will collaborate with exhibition attendees to create an original song.
• February 17, 6pm City Hall; The Bertha Knight Landes Room
Panel Discussion: Wendy Lustbader, author of Life Gets Better – the Unexpected Pleasures of Growing Older, moderates a panel discussion about the arts, creativity and dementia.
• February 24, 12 noon City Hall Lobby Gallery / Room L280
Improv Demonstration: Enjoy a demonstration on how improv can tap into the creative abilities of individuals experiencing early stage memory loss.