Fill up with fiber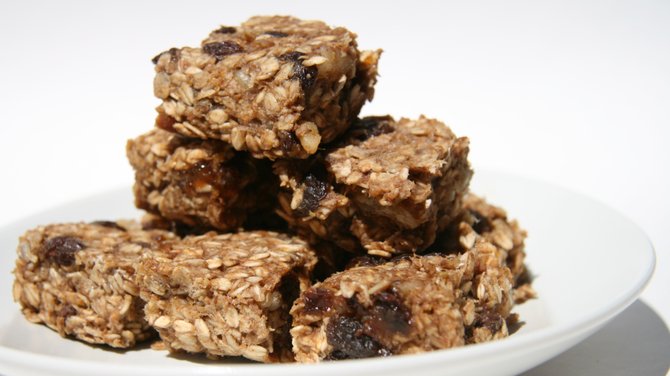 Remember when bran muffins were all the rage? There was good reason. They are full of fiber, which helps prevent heart disease, diabetes and several cancers of the intestine and colon. Some studies show that women who increase their fiber intake reduce their risk of breast cancer by half.
The average American eats much less fiber than they need, averaging about 5- to 15- grams a day. Experts recommend between 20 and 40 grams of fiber each day (20 grams for older women, up to 40 for larger, young men).
Remember that just because a food looks fibrous doesn't mean it really has much fiber. Celery, for example, only has about half a gram of fiber per stalk, while a slice of real whole wheat bread has about four times that amount, or 2 grams. A cup of wheat bran, often added to bran muffins, has about 30 grams of fiber.
Fiber in bran is called "insoluble" because it doesn't dissolve. Insoluble fiber can help with constipation, diverticulitis and other bowel problems. Soluble fiber, like that found in oatmeal, does dissolve. This kind of fiber helps decrease cholesterol and improves blood sugar levels.
We all need more fiber. However, if you are increasing the fiber in your diet, do so slowly, over time, so your intestine has time to adjust to the change. Too much fiber too fast can cause severe constipation.
The breakfast bars described below are high in fiber, quick to make, low in sodium, high in antioxidants from the raisins, and contain both soluble and insoluble fiber. You can also use these as a snack instead of salty granola bars. Just add a few scoops of whey protein powder. A sugar substitute works great in this recipe if you are diabetic or want to avoid sugar for any other reason.
Karin's Bran Breakfast Bars
1 1/2 cups boiling water
1/3 cup chopped raisins or 8 medium dates, diced
1 cup oatmeal
1/2 cup whole wheat flour
1 1/2 cups raw bran
1/3 cup corn or safflower oil
6 tablespoons sugar or sugar substitute
Preheat oven to 375 degrees. Pour 1 cup boiling water over diced fruit. Allow to stand about 20 minutes. Combine dry ingredients in a large mixing bowl. Drain fruit, discard juice. Add remaining 1/2 cup boiling water to fruit and blend in blender or food processor with oil. Add to dry ingredients and mix well. Put batter in greased or nonstick 9-by-12-inch pan. Press with fingers or spatula until level. Mark cutting lines with knife - 4 squares the narrow way, 6 squares the long way. Bake 20 minutes, cool on rack. Makes 24 squares.
Refrigerate or freeze if keeping more than two days. Do not eat too many at once, as they can act as a laxative.
Nutritional information (per two squares):
Calories: 162, Carbohydrates: 24 grams, Protein: 4 grams, Fiber: 4 grams, Sodium: 3 milligrams
The recipes in this column are meant for people who want to keep their kidneys healthy and blood pressure down by following a low-sodium diet. In most cases, except for dialysis patients, a diet high in potassium is thought to help lower high blood pressure. These recipes are not intended for people on dialysis without the supervision of a registered dietitian.

[Katy G. Wilkens is a registered dietitian and department head at Northwest Kidney Centers. She has a Master of Science degree in nutritional sciences from the University of Washington. See more of her recipes at www.nwkidney.org.]