A Giacometti pilgrimage
Travels with Deb
Deborah Stone | Dec 26, 2016, 6 a.m.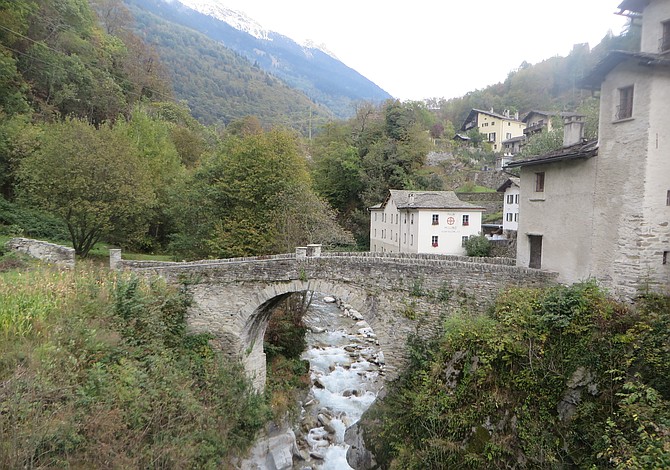 Art is omnipresent in the outdoor sculptures and fountains that dot this lovely town, as well as in its museums. Of note is the Graubünden Art Museum, which recently underwent a major extension. The original structure, Villa Planta, was a private residence designed in the neoclassical style with a prestigious front façade. Over the years, it became clear that the building did not supply sufficient space for the museum's continually growing collection. Last June, an extension was completed, which though minimalist and ultra-contemporary in design, has architectural elements that reference the venerable Villa Planta and conjoins with it to create a unique landmark.
Focal points from the museum's collection include the works of Angelika Kauffmann, who was born in Chur and is regarded as one of the greatest 18th-century women artists and a leading champion of neoclassicism. Another key focus is expressionism with paintings by Ernst Ludwig Kirchner, Hermann Scherer, Albert Müller and Paul Camenisch. HR Giger, who was born in Chur and won an Oscar for the best visual effects for the monster in the film "Alien," is also represented. But, the pièce de resistance has to be the museum's fine body of work from the Giacometti family, including those of Alberto, his brother Diego, their father Giovanni and Giovanni's second cousin, Augusto Giacometti, making this a veritable "Giacometti house" experience for visitors. Learning of these other family members was a particularly delightful revelation for me, as I was previously unaware of their existence.
This standout collection emphasizes Giovanni's Post-Impressionist paintings, significant sculptures, paintings and drawings by Alberto from each of his artistic periods, along with Diego's highly artistic furniture creations. Diego was known only to the art world as the model of his famous brother Alberto, as well as his assistant in executing Alberto's sculptures. Following the latter's death, Diego began to concentrate on creating his own body of work and came into his own as an artist, no longer living in the shadow of his brother's fame. The collection also includes Augusto Giacometti's astonishingly early abstractions, which played a notable role in 20th century Swiss painting.
Alberto is the most famous of the Giacometti family artists. This is due to the exceptional quality of his work, which attracted the attention of the right people. His social connections, particularly with the surrealists, were also responsible in assisting his rise to great prominence. Alberto's body of work was extensive, and critics have always been intrigued with his constant search for the human being and the presence of inner turmoil within his paintings and sculptures.
From Chur, we journeyed to Alberto's hometown of Stampa in Bregaglia, an unspoiled valley in the Italian region of Switzerland that is rich in history and natural beauty. Getting there is definitely part of the fun, as it involves a panoramic train to St. Moritz through spectacular mountainous scenery. The train negotiates numerous tunnels, bridges and inclines, giving passengers a host of jaw-dropping views. Two bus rides followed, which took us deep into the valley along winding roads dotted with quaint villages surrounded by jagged granite peaks. This area is paradise for hikers and mountain climbers, but it is also an idyllic refuge for artists.