Elder Friendly Futures conference explores ageism, community partnerships, research
Annual conference on aging runs Sept. 15-16 at Lynnwood Convention Center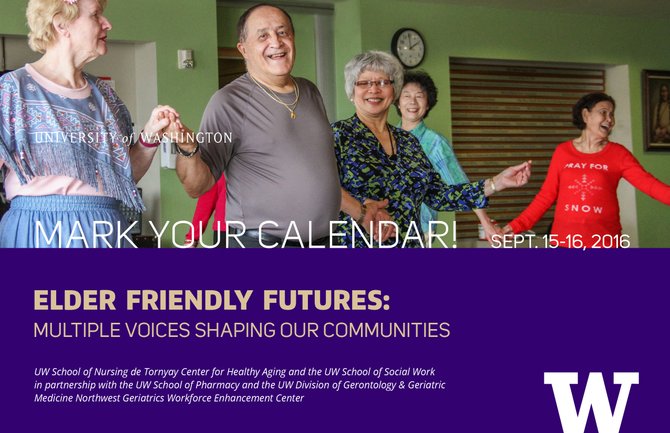 Ashton Applewhite first began studying aging because she was afraid of getting older. She soon realized that most of what she thought she knew was wrong.
"Only 4 percent of Americans over 65 end up in nursing homes, and the number is dropping – so is the likelihood of getting Alzheimer's disease," said Applewhite, author of This Chair Rocks: A Manifesto Against Ageism. "People are happiest at the beginning and the end of their lives. The older people get the less afraid they are of dying. An ageist culture drowns out all but the negative about growing old, or even just aging past youth."
Applewhite will be a keynote speaker at the fifth annual Elder Friendly Futures conference Sept. 15-16 at the Lynnwood Convention Center. Her presentation is OLD ≠ SICK: How Ageism Warps Our View of Long Life.
Elder Friendly Futures: Multiple Voices Shaping Our Communities features two days of educational sessions, networking opportunities, exhibits, research poster presentations, roundtable discussions, film discussions, and a University of Washington (UW) Book Store kiosk.
The event is co-presented by the UW School of Nursing and the UW School of Social Work in partnership with the UW School of Pharmacy, the UW Division of Gerontology & Geriatric Medicine, and the Northwest Geriatrics Workforce Enhancement Center.
"This conference has served an important need in our region by bringing together healthy aging experts, healthcare providers, community professionals, research educators and students to share and learn about healthy aging and how to create a healthier future in our communities," said Dr. Barbara Cochrane, co-director of the UW School of Nursing de Tornyay Center for Healthy Aging and conference co-chair.
"Each year, our community has shown growing enthusiasm, support and interest for this unique event," she said. "Everyone in attendance gains a better understanding of the multifaceted research and services on healthy aging."
Those in attendance will learn about the science of health and wellness, connections within age-friendly communities, addressing what it means to be older and underserved, dimensions of cognitive and mental health, and elder justice and security.
Applewhite will discuss the effects of ageism on individuals and our communities. Ageism is defined as stereotyping and discrimination on the basis of a person's age. We experience it when someone assumes that we are too old for a task — or too young – instead of finding out who we are and our true capabilities, she said.
"Ageism makes growing older harder than it has to be," said Applewhite, who runs the website, This Chair Rocks. "It damages our sense of self, segregates us, diminishes our prospects, and actually shortens lives."
Applewhite looks forward to helping conference participants learn how to fight ageism. She said gaining awareness of ageist behaviors, integrating with people of all ages, and activism against ageist attitudes are the best antidotes.

"My goal is that people will leave the Elder Friendly Futures conference with a more positive view of aging as well as the necessary tools to share this positive aging framework with their friends, colleagues and families," she said.
Additional keynote presentations at the conference include:
Karen Fredriksen-Goldsen, Professor and Director of Healthy Generations Hartford Center of Excellence at the University of Washington, presenting "Equity: A Powerful Force for the Future of Aging"
Fernando Torres-Gil, Professor of Social Welfare and Public Policy at UCLA, Director of the UCLA Center for Policy Research on Aging and an Adjunct Professor of Gerontology at USC, presenting "The Coming Aging of the Next America: Diversity, Generations and the 2016"
Visit elderfriendlyfutures.org to learn more or to register.