Tom Robbins
The northwest's own internationally bestselling author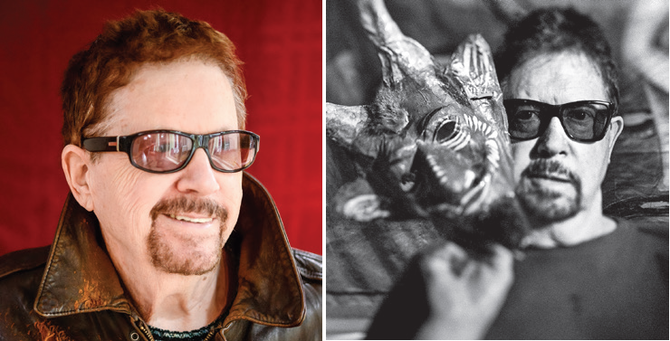 In 1970, Tom Robbins moved to La Conner, Washington and it was at his home there on Second Street that he authored nine bestselling books.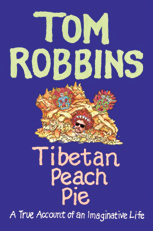 But his taste for literature started at a very young age. In his 2014 memoir, Tibetan Peach Pie, Tom writes, "It was almost as if some mad literary fairy, hatched perhaps in a poppy in Oscar Wilde's garden, had tapped me with her wand as I lay in my cradle, because I fell totally in love with books as soon as I knew what books were…I hadn't been talking in complete sentences for many months before I announced to my parents that I intended to be a writer. Too impatient to wait until I could spell words and scrawl them on paper, I turned my mother into my private secretary." In 1975, Tom related to his editor that he would throw tantrums if his mother altered even a single word of his childhood stories. The editor exclaimed, "My God, Robbins, you haven't changed in forty years!"
Tom Robbins was born in North Carolina in 1932 during the Great Depression. He calls his young self a "hillbilly." Both of his grandfathers were Southern Baptist preachers, but that didn't stop Tom from developing a reputation for reckless behavior and mischief from the time he could walk. His mother's affectionate nickname for little Tom Robbins was Tommy Rotten.
The Robbins family later moved to Virginia where Tom graduated from Virginia Commonwealth University.
Tom's great success as an author started in 1971 with the publication of Another Roadside Attraction, but he'd had a widely varied life before settling down to the business of writing bestselling books.
In 1953, Tom enlisted in the Air Force after receiving his draft notice, spent a year as a meteorologist in Korea followed by two years in the Special Weather Intelligence unit of the Strategic Air Command in Nebraska. He was discharged in 1957 and returned to Richmond, Virginia, where his poetry readings at the Rhinoceros Coffee House led to a reputation among the local bohemian scene.
He then resettled to the Northwest. "Ever since my troop ship sailed out of Yokohama Harbor in late 1955 I'd longed to return to Japan," writes Tom. In 1962, Tom moved to Seattle to seek an M.A. at the University of Washington's Far East Institute. During the next five years (minus a year spent in New York City researching a book on the painter Jackson Pollock) he worked for the Seattle Times as an art critic.
In his memoir, Tom writes: "Throughout all those diversions – the art columns, the happenings, the radio show, rock concerts, protest marches, pot parties, etc. – the old literary pulse continued to throb in my blood…A novel had announced itself." But he needed to pry himself from Seattle's art community to tackle the book. He moved to the tiny hamlet of South Bend, Washington with its cheap living quarters and few distractions. Another Roadside Attraction was the result.
Tom has described South Bend as a waterfront village physically not unlike La Conner. During his time in Seattle, he had discovered La Conner through a mushroom-hunting friend. When he finally found a place in La Conner he could afford, he moved there. He lives there still.