KCLS Celebrates Older Americans Month with Two Events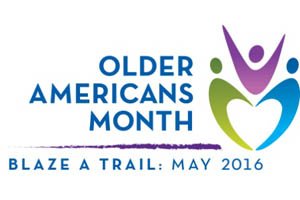 Since 1963, people in towns and cities across the nation have used the month of May to celebrate the contributions of older Americans. Isn't it nice to have a whole month to celebrate?
In May, the King County Library System is hosting two events designed with you in mind.
Assistive Technology and Resources Fair
Maintaining independence is a primary focus as we age, and one of the things most of us discover is that we need a little help as the years go by. Fortunately, there are many innovations and devices we can use to make our lives and those of our loved ones easier. These items fall under a broad category called "assistive technology," and range from canes and magnifying glasses to sophisticated smartphone "apps" that help people remember it's time to take medicine and floor sensors which detect whether someone has fallen out of bed.
The King County Library System invites you to learn about assistive technologies and community resources designed to make your life easier. And best of all, it's FREE! The event takes place Saturday, May 14, 11am to 3pm at the Bellevue Library, 1111- 110th Ave NE in Bellevue. While you're at this Resource Fair, you'll have opportunities to talk with representatives from many organizations to learn what they can do for you. Real-time captioning, CART, will be provided. If you require ASL Interpreting services, please make arrangements at least seven calendar days in advance by contacting diversity@kcls.org.
Social Security and Medicare in our free Telephone Town Hall
The second event in May connects you with direct access to expert information about Social Security and Medicare. The event takes place on Wednesday, May 18 from 10:30 to 1:30am On YOUR home phone! It's easy to sign up. Register your phone number by May 15 at www.kcls.org/ teletownhall to be included (or call 425- 462-9600 to learn more). How it works: We'll call you at 10:30 on May 18. The format is like a radio talk show, but you simply listen on your phone! Our experts will even take live questions from the audience.
And last but not least, we still provide good, old-fashioned in-person assistance at our libraries. Contact your local library to set up an appointment, or via the phone at Ask KCLS, 425-462- 9600, or 1-800-462-9600. Call us!