Preparation of Final Wishes is a Gift for Those You Love
Apr 1, 2016, 3:06 p.m.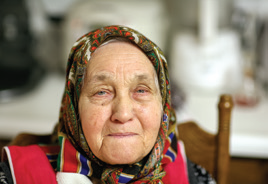 This article is sponsored by CHI Franciscan Health
Lana, a registered nurse for CHI Franciscan Health, recently shared this story about her grandmother. The care Grandmother Yelena received during her final days reflected what her family knew to be her wishes regarding Advance Directives and Goals of Care.
Growing up in Ukraine during the time of Stalin, Yelena survived the famine and escaped being sent to the factories in Germany to work—a common fate for so many young women of her time. Yelena married and, after World War II, had a family. The United States promised freedom to pursue education for the youngest generation and the family immigrated in 1991.
Tragedy struck in 2005 with the passing of Yelena's husband. He suffered an illness and when the dying process began, the family panicked and called an ambulance. He endured painful procedures and died in a hospital. The family, stunned by the experience, knew they wanted something different when Yelena faced the end of life.
Over the next 10 years, Grandmother Yelena suffered increasing dementia. The time came when she needed 24-hour care. Her children pulled together and cared for her while continuing to work. But Yelena's mind continued to fail and her body became weaker. She became easily confused and frightened of change, but was comforted when surrounded by family.
In December 2015, Yelena suffered a massive stroke and was hospitalized. After the family's previous experience with machines and tubing, noise and bright lights in the hospital, they knew the time had come to make important decisions. With Lana's help, they were able to understand that standard treatment options were only prolonging a painful and frightening death, and did not support what they knew to be the wishes of their dear mother and grandmother. They advocated for palliative medicine and hospice care. Yelena was transferred to Franciscan Hospice House. Her pain and symptoms were well managed, and her family had a caring team to gently support and prepare them for what would come.
Yelena died peacefully, surrounded by her loving family.
Preparation is a gift for those you love. Learn more and download our Decisions booklet and Advance Directives forms at www.chifranciscan.org/hospice. For more information or to start hospice and palliative care services, call (866) 969-7028.