Stroll, sip and savor the delights of storied Carmel-by-the-Sea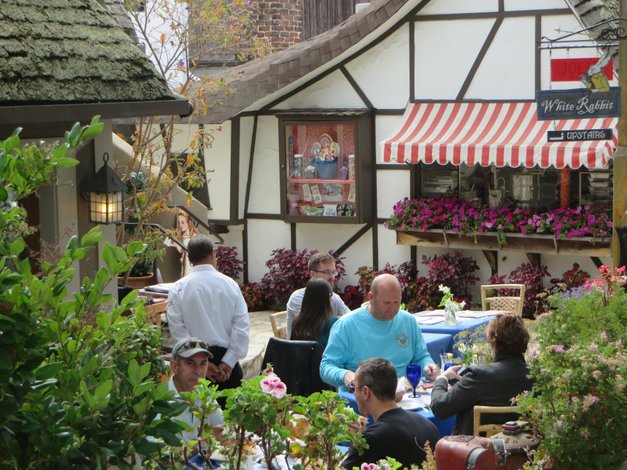 To say that Carmel-by-the-Sea is dog-friendly is an understatement. The famed California central coast town, rated the #1 Dog Friendly Town in America, welcomes man's best friend with open arms. Pet owners and their canines can dine together al fresco on many of the local restaurants' patios, and numerous stores have water bowls outside their doors, making it convenient to satisfy Fido's thirst as you stroll the streets. Snacks are also readily on hand as shopkeepers happily dispense doggy treats to well behaved canines. At Carmel Beach, you and your pup have more than enough space to roam, sans leash. Come nighttime, canine-friendly accommodations abound among the forty plus boutique inns, B&Bs and distinctive hotels. At the Cypress Inn, for example, which is partly owned by ardent animal lover/actress Doris Day, pet owners can bring their furry pals into their hotel rooms, enjoy happy or "yappy" hour, doggy turn-downs and even high tea together in the lobby. It's a veritable who's who of breeds, sizes and personalities, and surprisingly everyone gets along – four-legged creatures as well as two!
You'll find plenty to do in this world-renowned destination, with or without Fido at your side. Though only one square mile, tiny Carmel-by-the-Sea has evolved into quite the hot spot with big-city offerings of art, theater, music and dining. The best way to explore the community is to abandon your car and experience it on foot. You'll probably get lost once or twice, but that's half the fun, plus it'll help you discover some of the town's quirky traits.
As you walk around this picturesque enclave, you'll note an absence of addresses, parking meters or streetlights, as well as sidewalks outside of the downtown commercial area. Blame it on Carmel's founding fathers, who nixed the practice of house-to-house mail delivery, not wanting to see their village become urbanized. To this day, residents must get their mail from post office boxes at the local post office. As for getting directions, visitors receive cross streets and descriptive landmarks or they're told to look for the often legendary names that adorn most houses.
You might also observe there aren't any chain restaurants or chain stores in town. And if you plan to wear high heels that are more than two inches in height or with a base of less than one square inch, city law requires you to get a permit from City Hall. This rule, however, is not enforced by local police, but is on the books due to the uneven, cobbled surface of the pavement and perhaps as protection against possible lawsuits. Up until the late 1980s, there was even a prohibition against selling and eating ice cream on public streets. Thank one-time mayor Clint Eastwood for overturning this unpopular ordinance. Though he no longer serves in this political capacity, the veteran actor/director/producer still maintains a presence in the area as one of the owners of the Carmel Mission Ranch Hotel & Restaurant.
Wandering through town, you'll quickly realize that Carmel-by-the-Sea doesn't appear to be laid out in an organized manner. It's a rabbit warren with its meandering passageways and hidden courtyards – 42 in total. This, too, was purposely done by design nearly a century ago. The intent of developers James Franklin Devendorf and Frank H. Powers was to create a bohemian village - a retreat for artists, writers and professors – that was truly pedestrian friendly. Supposedly, only a few blocks in the one-mile square area are without passageways connecting one street to another midway. There are even cutaways in Ocean Avenue, the town's "main drag," allowing people to pass through the planted center divide.