Mediterranean Diet: as Prevention and Treatment for Alzheimer's disease
May 22, 2015 at 1:00 p.m.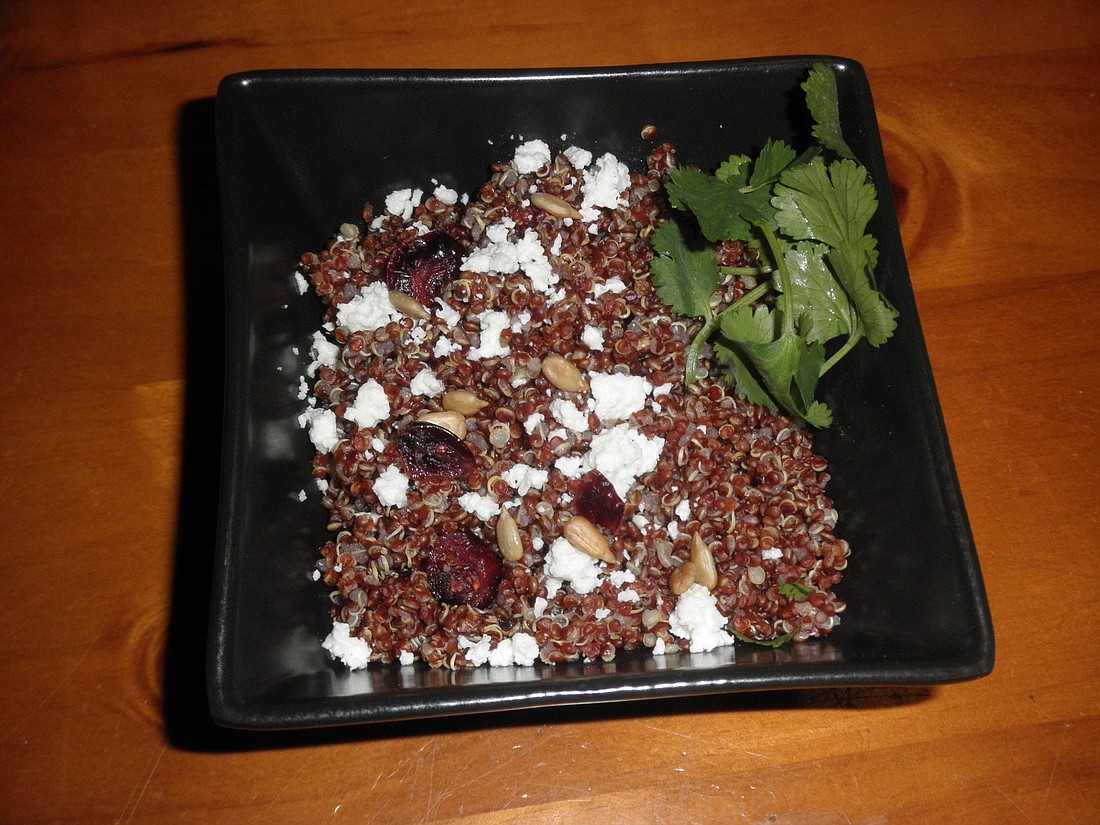 ---
...by By Dawn Jae, MSN candidate, reviewed by Amy Frasieur, MSN, RD, and Cynthia Lair, CHN
---
Alzheimer's disease is a degenerative disease that affects nerve cells in the brain. It is the most common form of dementia affecting short-term memory loss, ability to conduct daily tasks and, ultimately, the ability to recognize loved ones. One of the suspected causes of this disease is the formation of beta-amyloid plaques in the brain, which causes decreased nerve conduction resulting in impaired short-term memory loss. It is now suspected that inflammation and oxidative damage may play a role in this degeneration of nerve cells. Recent research shows that some dietary approaches such as the Mediterranean diet help to prevent, and even treat, Alzheimer's disease if incorporated early enough.
The Mediterranean diet has been around for centuries as a way of life for people in areas surrounding the Mediterranean Sea, hence the name. In the United States it has gained popularity in the media over the past few decades. The exciting part is that more and more research is done each year to demonstrate the many ways the Mediterranean diet is truly beneficial. It is shown to be beneficial for treatment and prevention of heart disease, hypertension, as well as diabetes. Recent research suggests that it may be useful as a preventive treatment of Alzheimer's disease. The healthy fats that make up the Mediterranean diet may protect neurons from damage and may even help to repair them. The varied colors of fruits and vegetables in the diet carry several antioxidants that help to lessen the oxidative stress, another suspected cause of the damage to these cells.
This mostly plant-based diet is relatively easy to stick to as it is more a way of life than a traditional diet. Part of its foundation is the inclusion of being physically active and the importance of sharing meals with loved ones. The Mediterranean diet is rich in healthy fats including those that come from fish as well as those found in extra-virgin olive oils, nuts, seeds and avocados. Another feature of this diet is the emphasis on whole grains such as brown rice, millet, quinoa and breads made from whole wheat and other grains such as barley. Foods from the legume family such as lentils, black beans, kidney beans and pinto beans are also featured. Equally important to the foods consumed on the Mediterranean diet are the foods that are naturally avoided, these include refined sugars and grains. The focus is on foods that are prepared at home rather than pre-packaged foods. Adding herbs and spices helps to season foods without the use of salt and has the added benefit of supporting the production of neurotransmitters in the brain, another reason this may be helpful for those with Alzheimer's disease.
Creating meals from the Mediterranean diet results in dishes that offer a beautiful array of colors from a variety of fruits and vegetables that are as pleasing to the eye as to the palate. Cookbooks and websites abound, making it easy to create wonderful meals to share with family and friends. You may be protecting your brain cells from Alzheimer's disease as well as protecting your heart, and just as importantly you will surely enhance connections with family and friends by creating some wonderful meals – good for your heart in more ways than one!
Mediterranean Quinoa
1 cup quinoa

1 3/4 cup water

1/2 teaspoon sea salt


1/4 cup pine nuts 

1/4 cup olive oil

1/4 cup lemon juice

3 tablespoons chopped mint

3 tablespoons chopped Italian parsley 

1/4 cup currants

1/3 cup crumbled feta cheese


Rinse and drain quinoa. Place in a 2-quart pot, add water and salt, bring to boil, lower heat, and simmer with lid on until all water is absorbed (15-20 minutes). Don't stir the grain while it is cooking. Test for doneness by tilting the pan to one side, making sure all of the water has been absorbed. Remove lid and let rest 5-10 minutes.


Toast pine nuts in small skillet over medium heat until they begin to change color and give off an aroma.


Combine olive oil, lemon juice, mint and parsley in a large bowl. Add currants and toasted pine nuts and toss. Using a fork, add cooked warm quinoa a little at a time. Crumble feta over the top. Toss well. Serve at room temperature.


Preparation time: 30 minutes 

Serves 4
Reprinted with permission from "Feeding the Whole Family," by Cynthia Lair (Sasquatch Books, 2008).
Non-profit, accredited Bastyr University (bastyr.edu) offers multiple degrees in the natural health sciences, and clinical training at Bastyr Center for Natural Health (bastyrcenter.org), the region's largest natural medicine clinic.

View and download this publication.
---
Inspire Positive Aging Award Winners!
The recipients of Sound Generations' 2022 Inspire Positive Aging Awards were celebrated at a June 16 luncheon.
---
A Birthday Gift Safety Manuel
I'm sure most men would agree that buying a birthday gift for your wife is fraught with danger
---
Filipino Village and Senior Housing Community Opens
Seattle's Filipino Community Village and affordable senior housing project opened in June
---
Where in Washington?
And the winner is...
---
Mt Si at Midnight
My best friend, Miggs, loved to climb and coaxed me up anything that was a hill if she could catch me in an unguarded moment. I hated a stiff climb, as even in those long-ago days I was plagued by shortness of breath. She could talk me into the effort by reminding me of how wonderful the view would be from the top. I have always been a push-over for a view.
---