Spring greens add freshness to meals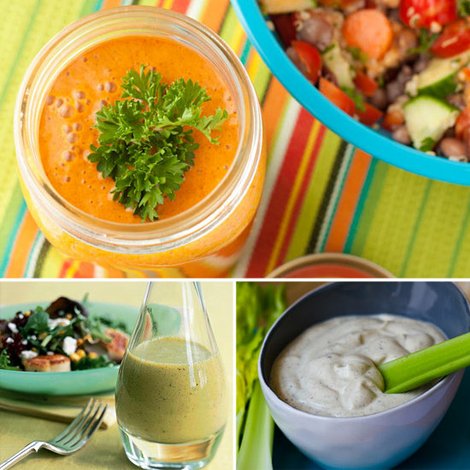 After a long cold winter, all of us are longing for some signs of spring. Chances are there are some early spring greens popping up in your yard right now!
It's true – those dandelion leaves you struggle to pull up are a great addition to a salad, as long as you don't use herbicides or pesticides on them. But, if you aren't into eating your weeds, how about trying some of the wonderful spring greens from the grocery store? They are pesticide free and probably slug-free, too.
Spring greens grown locally include lettuce, spinach, dandelion greens, endive, radicchio, watercress and even fiddle head ferns, if you can find them. These are all good sources of fiber and vitamins A and C.
But beware - sometimes that "healthy salad" has more fat and salt than you know. The average bottled dressing has between 200-500 mg of sodium in 2 tablespoons, which is hard to fit into your daily limit of 2,000 mg a day. You can make your own dressing for a fraction of that.
Try serving a salad as an entrée, with a warm bowl of homemade soup and nice crusty bread for a light dinner. Check out www.nwkidney.org for more tasty, low-salt recipes.
Orange-Sesame Dressing
1/4 cup sesame seeds


1/4 cup oil
2 tablespoons lemon juice
1 tablespoon vinegar
1/8 teaspoon celery seed
1/8 teaspoon cumin
1/8 teaspoon paprika
1/2 orange, peeled and chopped
Toast sesame seeds in a dry frying pan on medium heat. Grind them in a blender or food processor. Shake all ingredients together in a jar, or blend. Makes 6 servings. Calories: 118 per 2 tablespoon serving. Sodium: 2mg.
Fresh Herb Ranch Dressing
1/2 cup mayonnaise
1/2 cup milk + 2 tablespoons vinegar
1 tablespoon fresh chives, chopped
1 tablespoon fresh dill, chopped
1 tablespoon fresh oregano, chopped
1/2 teaspoon garlic powder
Add vinegar to milk, then whisk all ingredients together in a medium bowl. Chill mixture at least 1 hour to allow flavors to develop. Stir dressing well before serving. Makes 8 servings. Calories: 106, Sodium: 100mg.
Low-cal Green Goddess Yogurt Dressing
1 teaspoon tarragon leaves
2 tablespoons tarragon vinegar
1 green onion, thinly sliced
1 1/2 tablespoons minced parsley
2 teaspoons sugar
1 cup plain yogurt
Place tarragon and vinegar in a blender. Let stand for 5 minutes. Add onion, parsley, sugar, and yogurt. Blend until smooth. If made ahead, cover and refrigerate. Store up to 1 week. Makes 1-14 cups. Calories: 20 per 2 tablespoon serving. Sodium: 20mg.
Creamy Blue Cheese Dressing
1 pint sour cream
1 tablespoon lemon juice
1/2 teaspoon Worcestershire
1/8 teaspoon liquid hot pepper seasoning
1 clove garlic, minced, then sautéed
8 oz. blue-veined cheese or 6 oz. Roquefort, crumbled
Pepper to taste
In a bowl, combine sour cream, lemon juice, Worcestershire, hot pepper seasoning, and sautéed garlic. Blend well. Stir in Roquefort, mashing large pieces with a fork, until well blended. Add pepper to taste. If made ahead, cover and refrigerate. Store up to 10 days. Makes 2 ½ cups. Calories: 77 per 2 tablespoon serving. Sodium: 75 mg.
The information in this column is meant for people who want to keep their kidneys healthy and blood pressure down by following a low-sodium diet. In most cases, except for dialysis patients, a diet high in potassium is thought to help lower high blood pressure. These recipes are not intended for people on dialysis without the supervision of a registered dietitian.
[Katy G. Wilkens is a registered dietitian and department head at Northwest Kidney Centers. The 2014 recipient of National Kidney Foundation Council on Renal Nutrition's Susan Knapp Excellence in Education Award, she has a Master of Science degree in nutritional sciences from the University of Washington. See more of her recipes at www.nwkidney.org.]