All Aboard Amtrak on the Coast Starlight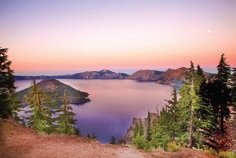 Did you catch last month's article on Amtrak's Empire Builder? This month Amtrak features the Coast Starlight en route daily from Seattle to Los Angeles.
Widely regarded as one of the most spectacular of all train routes, the Coast Starlight provides a stunning backdrop for your journey with the dramatic snow-covered peaks of the Cascade Range and Mount Shasta, lush forests, fertile valleys and long stretches of Pacific Ocean shoreline.
"The Coast Starlight is the only Amtrak train where you can see both mountains and beaches on the same route," said Coast Starlight's route director Mike Dwyer. It is also Amtrak's only train with a parlour car, which offers its own special menu. "The Parlour Car is unique because it is like sitting inside a fishbowl with windows all around you," he added. It is a great place to enjoy the scenery, view wildlife and to capture it all with your camera.
"Amtrak Vacations has carefully crafted vacation packages that showcase the incredible variety that North America has to offer", said Dwyer. "Amtrak Vacation specialists will help you plan your itinerary to make sure you get the most out of every destination".
Sightseeeing is included in all Amtrak Vacation packages and you can opt for escorted or independent rail journeys. Family adventure packages offer unforgettable vacations the grandkids will never forget. Rail Getaways are two-to-four day, single city vacations that combine rail travel with hotel accommodations, sightseeing and entertainment—these flexible getaways let you explore at your own pace without the hassle of planning the details. Amtrak Vacations even offers 'rail and sail' cruise vacations.
Coast Starlight Destinations
Two popular Oregon destinations are Portland and Klamath Falls.
• Portland is an easy trip from Seattle and has a reputation for manicured parks, unique shopping districts and entertainment. Nature cuts right into the city, and don't miss the famous Japanese Garden—one of the largest and most beautiful of its kind outside of Japan.
• Tucked into the southern tip of Klamath Lake, the sunny city of Klamath Falls is in a perfect position to offer adventurous excursions and enticing resorts. Venture to the trails and lakes in the region for hiking, canoeing, bird watching, cross country skiing or golfing. And Klamath Falls is the perfect place to stage your visit to Crater Lake National Park.
California offers many popular Amtrak Vacations package destinations including the natural beauty of Santa Barbara and the Tinseltown glamour of Los Angeles. But two of the Coach Starlight's most popular trip packages are the "San Francisco Ultimate Getaway" and the "California Coast" which links several destinations. These and other trip packages are booked through Amtrak Vacation Specialists.
• The San Francisco Ultimate Getaway: San Francisco is a favorite retreat known for its Golden Gate Bridge, Fisherman's Wharf, cable cars, charming neighborhoods and world-famous Chinatown. This vacation package includes three nights' hotel accommodations, a San Francisco CityPASS, sightseeing on the Hop-On/ Hop-Off Tour and dinner at a popular restaurant. www.amtrakvacations. com/rail_vacations/rail-getaways/San- Francisco-Ultimate-Getaway/
• The California Coast vacation package includes Hop-On/Hop- Off tours of San Francisco and Los Angeles, as well as excursions to the award-winning wineries of California's central coast in Paso Robles. It also includes a sightseeing harbor cruise of the San Diego Bay. www. amtrakvacations.com/rail_vacations/ rail-journeys/california-coast/
Amtrak has special accommodations for seniors such as an accessible sleeper car, menus that accommodate health concerns and a year-round senior discount. Sleeping car passengers receive complimentary meals in the dining car or they can eat in the comfort of their private roomettes.
Part of the joy of train travel is comfort and a relaxed schedule. Amtrak is great way to take a carefree, memorable vacation.
For more Amtrak information or to book your trip, call 1-800-USA-RAIL (1-800- 872-7245). For more Amtrak Vacations information or to speak to a Specialist, call 1-800-AMTRAK-2 (1-800-268-7252) and press "1."