Wearing of the Green
Sharing Stories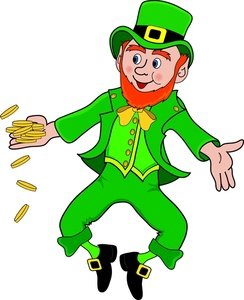 Wearing of the Green
We celebrate St. Patrick's Day and everyone wear's green—
a necktie or a hair bow with Shamrocks always seen.
Even cut from paper, we proudly pin them on.
We're Irish lads and lassies, straight from Dublin town.
I'd love to go to Ireland and meet a leprechaun.
I'm sure they still are found there, but maybe I am wrong.
I'd like to find that pot of gold 'neath the rainbow arc
and find a four leaf clover, and dance 'round County Cork.
I'd visit me an Irish pub where poets and singers bide
to hear the tales remembered, out in the countryside—
the stories of the fairy folk, the little people.
Are they invisible to humans? Well, that is what they say.
The photos of the Emerald Isle just takes me breath away.
I'd send to you a postcard, with an Irish scene
and another to me self: something in Emerald green.
I'd write a little limerick. I'm sure you've heard a few.
A nonsense poem of Blarney—maybe I'll write two!
"There was a young lady named June
who longed to play the bassoon.
To this end she aspired,
But the girl got so tired,
she just couldn't carry the tune."
"An Irish lad named John
loved singing all the day long.
The trouble, of course,
Johnny always was 'hoarse,'
and never could finish a song."
On the 18th day of March, we put all green things away.
We never wear them 'till next St. Paddy's day.
I love to wear green and sing a fine Irish song,
For 'tis, "Too-rah-lou-rah-lou-rah, too-rah-lou-rah-lie,"
I'll be singing the whole year 1ong."
Shirley Kranda
"May ye be half an hour in Heaven
before the devil knows your dead."
An Old Irish Blessing
Shirley Kranda is a local poet who spends time at Edmonds Senior Center.
SHARING STORIES is a weekly column for and about the 50 plus crowd living in the Puget Sound region. Send your stories and photos to ariele@comcast.net. Tell local or personal stories; discuss concerns around aging and other issues; share solutions, good luck, and reasons to celebrate; poems are fine too. Pieces may be edited or excerpted. We reserve the right to select among pieces. Photos are always a plus and a one-sentence bio is requested (where you live, maybe age or career, retired status, etc.).
SHARING STORIES is featured on www.northwestprimetime.com, the website for Northwest Prime Time, a monthly publication for baby boomers, seniors, retirees, and those contemplating retirement. The newspaper can be found in the greater Seattle area and other Puget Sound locations. For more information, call 206-824-8600 or visit www.northwestprimetime.com. To find other SHARING STORIES articles on this website type "sharing stories" in the search function above.