The Beach Boys' Brian Wilson
He's still giving those 'Good Vibrations' - Brian Wilson performs in Seattle in July; a movie about his life opened nationwide last month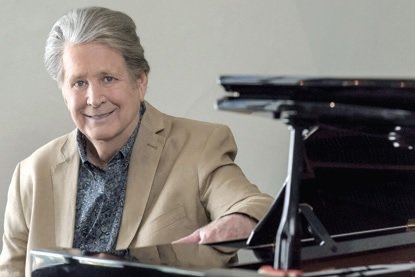 Brian Wilson of the Beach Boys is the main creative force behind some of the most iconic recordings in rock history.
With his innovative approaches to song composition and mastery of recording techniques, Brian influenced generations of musicians and is hailed as one of the best popular composers of the last century.
His journey began in June, 1942. He was raised in a modest Hawthorne, California home that was filled with music. Both parents played the piano; his father said that even as a baby Brian could repeat melodies. As a young "boy soprano," Brian's vocal gift was immediately evident and he sang solos with the church choir.
Brian taught his younger brothers Dennis and Carl to sing harmonies. They loved it so much, the Wilson boys practiced in their room while they were supposed to be sleeping! Those years of practice came in handy when the brothers, along with their cousin Mike Love and friend Al Jardine, joined together to form the Beach Boys.
As a teen in the 1950s, Brian became obsessed with the harmonic blend of groups like the Four Freshmen. Then, in the early 1960s he was inspired to combine multi-part vocal harmony with the rock rhythms of Chuck Berry…Brian Wilson had found his own unique musical style.
After high school he enrolled in college to major in psychology, but continued to study music. Brian was barely out of his teens when he started creating the Beach Boys' early hit records—nine consecutive "gold" albums that featured such classics as Surfer Girl, In My Room, I Get Around, Don't Worry Baby, Fun-Fun-Fun, Help Me Rhonda and California Girls, to name a handful of the more than two dozen Top 40 hits he co-wrote, arranged, produced and performed with his family band. The Beach Boys' music would take the country by storm, creating a utopian fantasy of the California surfing lifestyle.
The catchy, upbeat odes to fun in the California sun led the group to international stardom. By 1966, the band had amassed a slew of hit records and millions of fervent fans around the world.
But the golden veneer was beginning to crack.
In 1966, Brian decided to stop touring with the group, preferring to stay in the studio and experiment with a new sound. That year, at age 23, Brian created what many believe to be one of the most innovative and influential musical albums of all time: Pet Sounds.
Pet Sounds was the first of three projects Brian produced during that landmark year. It featured four hit singles: Wouldn't It Be Nice, God Only Knows, Caroline No and Sloop John B.
His second studio masterpiece that year was Good Vibrations. Released nearly 50 years ago, it became the Beach Boys' first million-selling worldwide No. 1 hit. Because of the groundbreaking studio techniques used in its creation, Good Vibrations was recognized as a milestone in recording history.
After the release of Good Vibrations, when the Beach Boys arrived in London for a fall tour that year they were mobbed with a mania worthy of England's most famous musical export—the Beatles.
Editor's Picks
"It was twenty years ago today Sgt. Pepper taught the band to ...