A Birthday Roast
Sharing Stories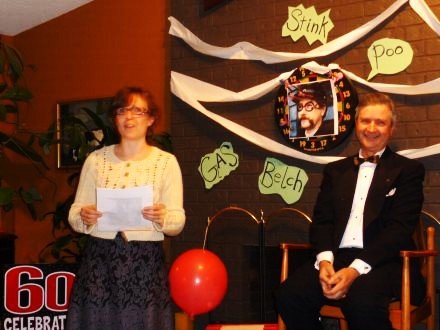 Ding Dong! Pound, Pound, Pound! "WE KNOW YOU'RE IN THERE!" Two more guests arrive to mingle with the sixteen already in our house for my sixtieth birthday roast. My daughter has invited my friends, ordered a cake, and made foods. Her decorations and signs are designed to poke fun at me and to embarrass me.

Laughing faces roar their approval as each person tells bad things I have done or pranks I have committed. They make me sit on a tall chair under bright lights. My tailored tuxedo and crisp shirt feel hot in the strong lights. Smokey candles add to the room's warmth, along with hot foods and too many people. Camera flashes go off frequently, documenting my official humiliation.

I must stay silent as my friends "drag my name through the mud" in their payback for years of tormenting and teasing them. Such amateurs, I think. My cake arrives. It is in the shape of a huge poop and even has plastic flies on it. Everyone says it tastes fantastic and asks me for another piece. I gladly give them more "sh...!" ;-)
Everyone eating makes the room quiet. Champagne pours into glasses that clink, drinking toasts to my "downfall." The salmon is steaming hot when I cut pieces for everyone. The fresh cornbread with butter tastes so good I briefly forget that I must thank each person for coming. Strong handshakes and whacks on my back remind me that I am liked after all.
Jack Parsons has been pranking in Edmonds for twenty-four years.
SHARING STORIES is a weekly column for and about the 50 plus crowd living in the Puget Sound region. Send your stories and photos to ariele@comcast.net. Tell local or personal stories; discuss concerns around aging and other issues; share solutions, good luck, and reasons to celebrate; poems are fine too. Pieces may be edited or excerpted. We reserve the right to select among pieces. Photos are always a plus and a one-sentence bio is requested (where you live, maybe age or career, retired status, etc.). SHARING STORIES is featured on www.northwestprimetime.com, the website for Northwest Prime Time, a monthly publication for baby boomers, seniors, retirees, and those contemplating retirement. The newspaper can be found in the greater Seattle area and other Puget Sound locations. For more information, call 206-824-8600 or visit www.northwestprimetime.com. To find other SHARING STORIES articles on this website type "sharing stories" in the search function above.