Cat Tales
Sharing Stories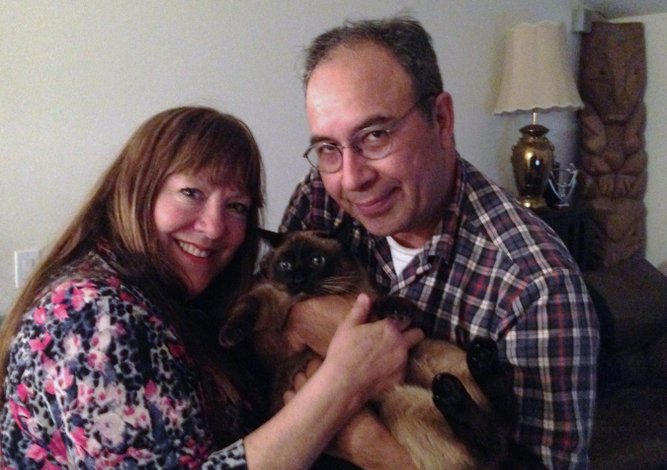 Cat Tales
My husband has a relationship with our cat. Her name is Ella, and she talks to me through my husband. My husband takes on this "cat voice" and talks to me about what is going on at work, at home, and about anything. There is no rhyme or reason; all I know is that he makes me laugh!

Alex takes Ella and holds her like a baby. She looks up at my husband as if to say, "Mamma, what is he doing? He should go to work and make money so he can buy Kibbles for me!" Although I am not versed at reading cats, one look in her eyes and I know when it is time for me to take her away from my husband before she scratches him. However, she never does. She lies there and looks at him so adoringly…or is she in shock? She is limp and her paws are dangling so that Alex takes her paw and puts it to his lips as if Ella is saying, "Be quiet, no more talking." And then he takes her paw and puts it to his head (where the brain is) and says, "Mamma, what is up there? I don't feel anything up there."
My time with Alex and our cat after work relieves the stress of a long hard day. Ahhh, my husband and my cat, laughing all the way to the kitchen to make dinner and make sure that my husband has Fed Ella.
Glorianne Bora works at Everett Community College as an Administrative Assistant for Basic Skills and Alex works at Boeing. They come from Los Angeles and have been in Everett since 2007, and they love it here!
SHARING STORIES is a weekly column for and about the 50 plus crowd living in the Puget Sound region. Send your stories and photos to ariele@comcast.net. Tell local or personal stories; discuss concerns around aging and other issues; share solutions, good luck, and reasons to celebrate; poems are fine too. Pieces may be edited or excerpted. We reserve the right to select among pieces. Photos are always a plus and a one-sentence bio is requested (where you live, maybe age or career, retired status, etc.).
SHARING STORIES is featured on www.northwestprimetime.com, the website for Northwest Prime Time, a monthly publication for baby boomers, seniors, retirees, and those contemplating retirement. The newspaper can be found in the greater Seattle area and other Puget Sound locations. For more information, call 206-824-8600 or visit www.northwestprimetime.com. To find other SHARING STORIES articles on this website type "sharing stories" in the search function above.