A veggie family tree: Broccoli brothers, cabbage cousins and more
Winter in the Northwest can be warmed up with healthy veggie recipes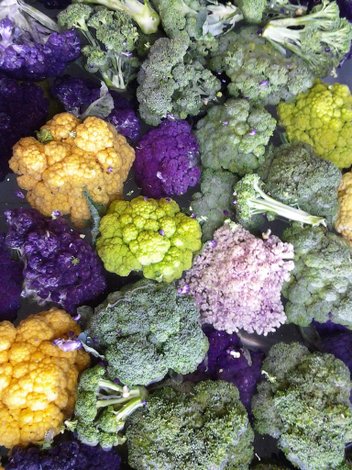 Do you know what kale, broccoli, cabbage, kohlrabi and cauliflower have in common? They are all Brassicas, one of the most commonly eaten plant families around the world.
Brassicas are sometimes called cruciferous vegetables because the leaves of most plants in this family grow in opposite pairs and form a cross. You are eating Brassicas when you chomp down on radishes – those are the roots. When you eat cabbage, kale and arugula, those are the leaves. Broccoli and cauliflower are the flowers. Kohlrabi, bok choy and gai-lan (Chinese broccoli) are stems.
Here are some tips on how to buy a few of the most common varieties:
• Arugula, spinach, bok choy, mustard or turnip greens – choose bright green, crisp leaves.
• Turnips, rutabagas and other roots – buy firm, solid roots that are heavy for their size.
• Kohlrabi, Brussels sprouts, cabbage – look for tight heads/buds. For kohlrabi and Brussels sprouts, smaller is better.
• Broccoli, cauliflower – choose tender, firm stalks and tight buds. Cauliflower shouldn't have dark marks.
What's even better is this veggie family is high in vitamin C, A and K, and has lots of fiber. People who eat a lot of them have lower cancer rates. Preparing them with flavorful, low-salt recipes will make them heart- and kidney-friendly, too!
Patricia Hailey's Kale and Turnip Greens
A winning recipe from the 2008 Northwest Kidney Centers "Food for the Soul" recipe contest.
1/2 cup olive oil
1 pound kale, chopped
1 pound turnip greens, chopped (mustard greens work also)
1 onions, chopped
1 clove garlic, minced
2 tomatoes, chopped
Wash kale and greens thoroughly. Heat olive oil in a large skillet. Add onions and cook until soft. Add garlic, then tomatoes. Cook over medium-low heat, uncovered for 5 minutes. Meanwhile, chop greens. Lay greens over tomato mixture, cover with lid and cook for 15 minutes or until all greens are wilted.
Makes 10 servings.

Nutrient information (per ½ cup serving): calories: 57, carbohydrates: 8 g, protein: 2 g, sodium: 33 mg
Collard Greens and Rice
4 cups collard greens, leaves stripped off stems and coarsely chopped
2 slices bacon, diced
1 cup long-grain rice
2 cups low-sodium vegetable broth
1/8 teaspoon hot pepper sauce
1 tablespoon fresh basil, chopped
Over medium heat, sauté bacon in medium sauce pan until crisp. Add collard greens. Stir and cook for 1 minute. Add remaining ingredients, heat to slow boil. Cover and simmer until rice is tender, about 25 minutes. Remove lid, stir in basil, and cook until somewhat dry.
Makes 4 servings.
Nutrient information (per serving): calories: 221, carbohydrates: 41 g, protein: 8 g, sodium: 138 mg
Lemon Gai-Lan
1 pound gai-lan, coarsely chopped
¼ cup low-sodium vegetable broth
Juice of 1 lemon and grated peel
4 tablespoons butter or margarine
1 tablespoon fresh parsley, chopped
1 tablespoon Kafir lime leaf, chopped fine (optional)
Plunge gai-lan into large pot of boiling water until bright green and crisp-tender, about 3-4 minutes. Rinse with cold water until cool. Drain and set aside. In large skillet, over medium heat, combine broth and lemon juice. Bring to a boil and reduce liquid by half, about 4 minutes. Add butter and stir until smooth. Add gai-lan, Kafir lime leaf and lemon peel. Cook until just warmed, about 2 minutes, then sprinkle with parsley.