Study finds peanut consumption in infancy prevents peanut allergy
NIH-funded trial compares consumption and avoidance of peanut
February 27, 2015 at 6:00 a.m.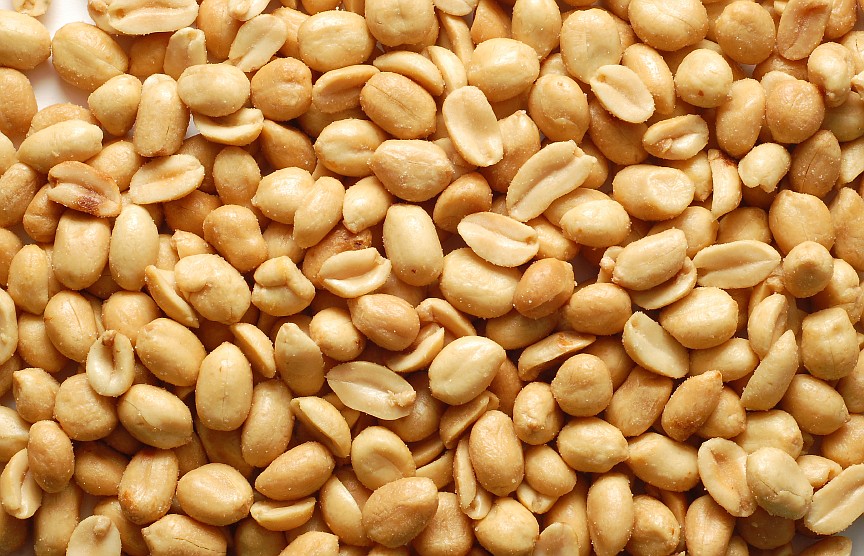 ---
---
Introduction of peanut products into the diets of infants at high risk of developing peanut allergy was safe and led to an 81 percent reduction in the subsequent development of the allergy, a clinical trial has found. The study was supported by the National Institute of Allergy and Infectious Diseases (NIAID), part of the National Institutes of Health, and was conducted by the NIAID-funded Immune Tolerance Network (ITN) External Web Site Policy. The results appear in the current online issue of the New England Journal of Medicine and were presented today at the annual meeting of the American Academy of Allergy, Asthma and Immunology.
Researchers led by Gideon Lack, M.D., of King's College London, designed a study called Learning Early About Peanut Allergy (LEAP), based on observations that Israeli children have lower rates of peanut allergy compared to Jewish children of similar ancestry residing in the United Kingdom. Unlike children in the UK, Israeli children begin consuming peanut-containing foods early in life. The study tested the hypothesis that the very low rates of peanut allergy in Israeli children were a result of high levels of peanut consumption beginning in infancy.
"Food allergies are a growing concern, not just in the United States but around the world," said NIAID Director Anthony S. Fauci, M.D. "For a study to show a benefit of this magnitude in the prevention of peanut allergy is without precedent. The results have the potential to transform how we approach food allergy prevention."
LEAP compared two strategies to prevent peanut allergy — consumption or avoidance of dietary peanut — in infants who were at high risk of developing peanut allergy because they already had egg allergy and/or severe eczema, an inflammatory skin disorder.
"The study also excluded infants showing early strong signs of having already developed peanut allergy. The safety and effectiveness of early peanut consumption in this group remains unknown and requires further study," said Dr. Lack. "Parents of infants and young children with eczema or egg allergy should consult with an allergist, pediatrician, or their general practitioner prior to feeding them peanut products."
More than 600 high-risk infants between 4 and 11 months of age were assigned randomly either to avoid peanut entirely or to regularly include at least 6 grams of peanut protein per week in their diets. The avoidance and consumption regimens were continued until 5 years of age. Participants were monitored throughout this period with recurring visits with health care professionals, in addition to completing dietary surveys by telephone.
The researchers assessed peanut allergy at 5 years of age with a supervised, oral food challenge with peanut. They found an overall 81 percent reduction of peanut allergy in children who began early, continuous consumption of peanut compared to those who avoided peanut.
"Prior to 2008, clinical practice guidelines recommended avoidance of potentially allergenic foods in the diets of young children at heightened risk for development of food allergies," said Daniel Rotrosen, M.D., director of NIAID's Division of Allergy, Immunology and Transplantation. "While recent studies showed no benefit from allergen avoidance, the LEAP study is the first to show that early introduction of dietary peanut is actually beneficial and identifies an effective approach to manage a serious public health problem."
A follow-up study called LEAP-On will ask all LEAP study participants to avoid peanut consumption for one year. These results will determine whether continuous peanut consumption is required to maintain a child's tolerance to peanut.
This work was funded in part by NIAID under award numbers NO1-AI-15416, UM1AI109565 and HHSN272200800029C. Other organizations providing support include Food Allergy and Research Education, the Asthma UK Centre, and the UK Department of Health. The study results can be found on Trialshare External Web Site Policy, an open-access website that hosts studies conducted by the ITN. Additional details are available at http://ClinicalTrials.gov using the identifier NCT00329784 for LEAP and NCT01366846 for LEAP-On.
NIAID conducts and supports research — at NIH, throughout the United States, and worldwide — to study the causes of infectious and immune-mediated diseases, and to develop better means of preventing, diagnosing and treating these illnesses. News releases, fact sheets and other NIAID-related materials are available on the NIAID website at http://www.niaid.nih.gov.
About the National Institutes of Health (NIH): NIH, the nation's medical research agency, includes 27 Institutes and Centers and is a component of the U.S. Department of Health and Human Services. NIH is the primary federal agency conducting and supporting basic, clinical, and translational medical research, and is investigating the causes, treatments, and cures for both common and rare diseases. For more information about NIH and its programs, visit www.nih.gov.
View and download this publication.
---
Inspire Positive Aging Award Winners!
The recipients of Sound Generations' 2022 Inspire Positive Aging Awards were celebrated at a June 16 luncheon.
---
A Birthday Gift Safety Manuel
I'm sure most men would agree that buying a birthday gift for your wife is fraught with danger
---
Filipino Village and Senior Housing Community Opens
Seattle's Filipino Community Village and affordable senior housing project opened in June
---
Where in Washington?
And the winner is...
---
Mt Si at Midnight
My best friend, Miggs, loved to climb and coaxed me up anything that was a hill if she could catch me in an unguarded moment. I hated a stiff climb, as even in those long-ago days I was plagued by shortness of breath. She could talk me into the effort by reminding me of how wonderful the view would be from the top. I have always been a push-over for a view.
---