Add Variety to your Food Groups
February 10, 2015 at 11:29 a.m.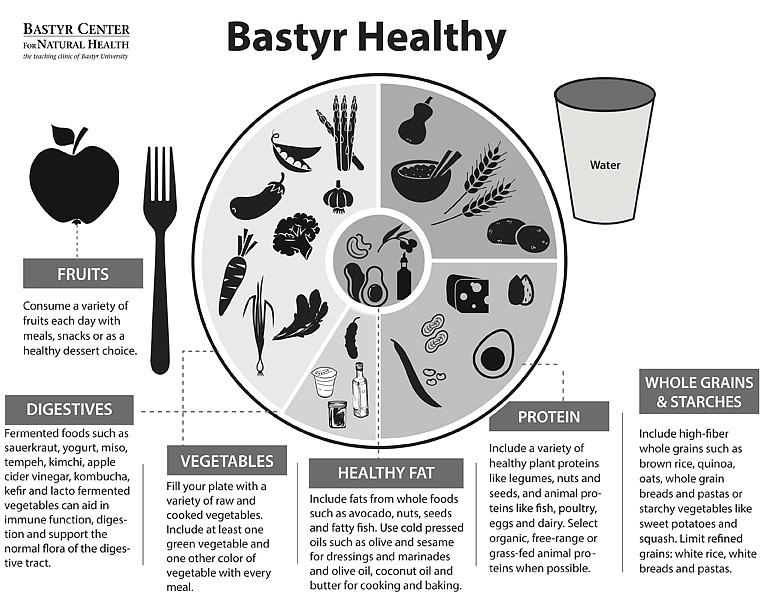 ---
...by By Dawn (Dailidenas) Jae, MSN candidate, reviewed by Dr. Cynthia Bartok, PhD, RD, and Cynthia Lair, CHN
---
Keeping up with current nutrition advice can be a daunting task. The latest diets and current trends dictating which foods to include or avoid can make healthy eating confusing at best! During the 1980s, many people believed fats were "bad," and with the new millennia carbohydrates became "bad." Today gluten and dairy are out while coconut oil and avocados are in. And don't forget protein, everyone's favorite macronutrient!
Despite all of these trends that focus on eliminating entire food groups or severely restricting food choices, research confirms again and again that a balance of foods and inclusion of all macronutrients will bring the best nutrition – the more varied the diet, the better. Too much or too little of anything is not the best for your body, but finding the right balance and combination of foods can be somewhat of a mystery.
The Bastyr Healthy Plate model (shown here) is a resource you can use to evaluate your balance of foods at each meal. Understanding why each food group is needed for health can help you make the best decision for your body based on science rather than the latest fad. With this tool you can tailor your choices to fit your own preferences. You can use this tool to make meal choices and feel confident you are eating a well-balanced diet without restricting entire food groups.
• Fruits and vegetables provide a variety of vitamins, minerals and antioxidants that your body needs to remain healthy and fight disease. Choosing a variety of colors helps to maximize their benefit.
• Whole grains such as brown rice, oats and quinoa along with starchy vegetables such as potatoes and squash provide important sources of fiber along with carbohydrates that primarily serve as a fuel source for the body.
• Healthy fats work to keep your cells healthy and protected. Focusing on fats from plant sources such as nuts, avocados and olive oil as well as fatty fish will help you reduce the risk of heart disease.
• Everyone loves protein these days! Protein provides the essential building blocks for healthy muscles. Good sources of protein include legumes, nuts, seeds, fish and poultry. These foods have everything you need to build and maintain healthy muscles.
• A component of the Bastyr Healthy Plate that may be new for some people is that of digestives in the form of fermented foods. These provide important components for gut health. A small amount at each meal can help aid digestion and keep a healthy balance of bacteria in the gut.

Eating a variety of whole foods at each meal will provide you with the necessary nutrients in the form of vitamins and minerals and will include the macronutrients needed for the varied functions in your body. When diets omit entire food groups or encourage dramatic reduction in macronutrients such as carbohydrates or fats, important components necessary for your body's function are missing. Each component is vital to your overall health. By including every food group and every macronutrient in your meal choices, you are likely to get the nutrition you need in the right balance. Including an assortment of fruits, vegetables, whole grains and fermented foods will help improve your overall health, taste delicious and provide interesting choices, making it a sustainable way of eating.
Maple Butter Nut Granola
Use this granola as a topping on hot cereal, fresh fruit or yogurt. This provides many of the components of a balanced meal: Oats provide whole grain while the nuts and seeds provide healthy fat and protein.
½ cup organic unsalted butter
3 ½ cups rolled oats
½ cup sesame seeds
½ cup sunflower seeds
½ cup pumpkin seeds
½ cup almonds, chopped
½ teaspoon cinnamon
½ teaspoon sea salt
½ cup maple syrup
1 tablespoon nut butter (e.g. peanut, almond, or cashew)
1 teaspoon vanilla
¼ teaspoon almond extract
• Preheat oven to 325 degrees Fahrenheit.

• Place butter in a small pan on low heat and melt.
• In a 9-by-13-inch baking pan, combine oats, seeds, almonds, cinnamon and salt; mix well.

• Add syrup and nut butter to melted butter and whisk to blend. Remove from heat and add extracts. Slowly pour wet ingredients over dry ingredients, using a spatula to fold and evenly coat the dry mixture with the wet. Spread evenly and bake.

• Turn granola every 15 or 20 minutes so that it toasts evenly. Bake until granola is dry and golden (45 to 60 minutes). Store in an airtight jar.
Preparation time: 70 minutes
Makes 8 cups
Reprinted with permission from "Feeding the Whole Family," by Cynthia Lair (Sasquatch Books, 2008).
Non-profit, accredited Bastyr University (bastyr.edu) offers multiple degrees in the natural health sciences, and clinical training at Bastyr Center for Natural Health (bastyrcenter.org), the region's largest natural medicine clinic.
View and download this publication.
---
Inspire Positive Aging Award Winners!
The recipients of Sound Generations' 2022 Inspire Positive Aging Awards were celebrated at a June 16 luncheon.
---
A Birthday Gift Safety Manuel
I'm sure most men would agree that buying a birthday gift for your wife is fraught with danger
---
Filipino Village and Senior Housing Community Opens
Seattle's Filipino Community Village and affordable senior housing project opened in June
---
Where in Washington?
And the winner is...
---
Mt Si at Midnight
My best friend, Miggs, loved to climb and coaxed me up anything that was a hill if she could catch me in an unguarded moment. I hated a stiff climb, as even in those long-ago days I was plagued by shortness of breath. She could talk me into the effort by reminding me of how wonderful the view would be from the top. I have always been a push-over for a view.
---