Reboot mind, body, spirit at Sunrise Springs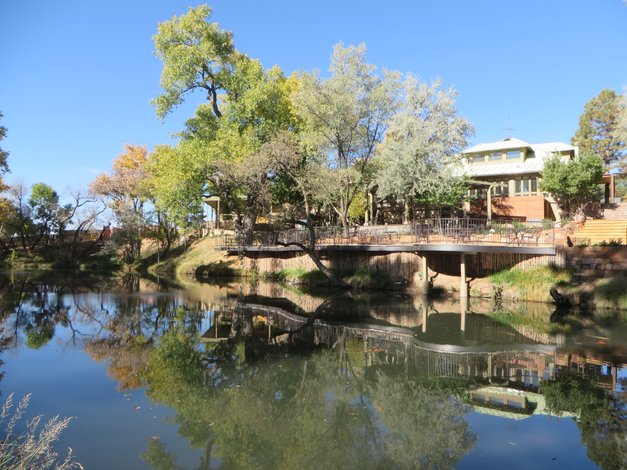 I confess I've never been a fan of chickens. They always seem like nervous and high strung birds, and their pecking and quick movements are unsettling to me. I would have never imagined that these creatures could be used in the realm of animal-assisted therapy. Dogs, yes. Horses, sure. But, chickens? They couldn't possibly bring a sense of calm and comfort to people. Then I was introduced to Blanco and his gang and something special happened.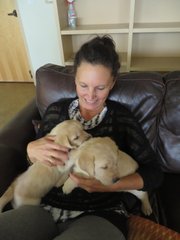 At newly-opened Sunrise Springs Integrated Wellness Resort in Santa Fe, New Mexico, sister property to the venerable Ojo Caliente Mineral Springs & Spa, animal interaction sessions are just one of the many experiential activities offered aimed at fostering optimal health and well-being. Currently, these interactions involve canines and chickens, both which reside on-site. Canine sessions are with adult service dogs and puppies-in-training from Assistance Dogs of the West, an agency the resort has partnered with to help guests learn canine handling techniques and practice specific training activities to prepare the animals for being future assistance dogs, take walks with the dogs or simply enjoy an opportunity to cuddle with them. During my stay, I had the pleasure of spending time with a passel of five-week-old yellow Lab pups, who loved to play and then promptly curl up in my lap for a nap. Being around these adorable bundles of joy brought me enormous contentment, as well as channeled my inner child.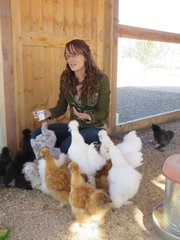 As for the chickens, the resort has about two dozen Silkies, who have taken up residence in a spacious covered enclosure. This breed is characterized by silky feathers, which make them appear like miniature fluff balls with tiny Uggs on their feet. They are very soft to the touch, have five toes, turquoise colored earlobes (how Santa Fe!) and a "walnut" comb. Silkies are known to be gentle birds who love company. They like to chatter and to also make sweet purring and vibration-like noises when they're calm. This type of chicken loves nothing more than to raise a clutch of eggs, and as they are a magnanimous sort, they're not picky about whose eggs they are! There are documented cases of Silkies raising other types of poultry, including ducklings and goslings, taking care of them as if they were their own.
I admit I was initially a bit apprehensive to enter the Silkies' arena, but with encouragement from the resort's horticulture and nature-based specialist Daniele Simmons, I gamely headed inside. Twenty-five chickens greeted me. Some came right up to me and curiously moved around my feet, as if sizing me up. Others were busy eating either their feed or some veggies brought in from the garden. Simmons invited me to sit on a chair and observe the creatures, while she talked about them. I learned about Blanco, the main rooster, who assumes the duty of keeping the others in their place. He thinks nothing of pecking at them if they are disturbing him or if they are trying to eat food he has claimed as his own. Then there's Wilbur, the smallest of the bunch. As the runt, he was named after Wilbur in "Charlotte's Web." Lemon Drop is appropriately yellow in color. And Princess, who is always exquisitely groomed, has a royal moniker.