Inconvenience is the Mother of a Merry Christmas
Sharing Stories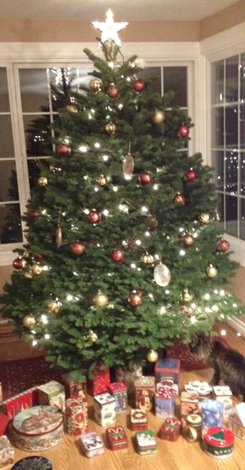 I wonder if the driver in the car next to me can see me crying. I should close the moon roof so the streetlamps don't shine in and expose my sad face.
Wednesday, December 9, 2015: I was on my way home from work, the street slick and black as obsidian with rain. The heated seat warmed my thighs, and the breath from the vents thawed my hands on the wheel as my faithful Subaru carried me home, my head filled with thoughts of Christmas in our new place.
The multi-unit housing boom had squeezed us out of our old neighborhood in late October. We had lived there for twenty-two years…twenty-two years of collecting stuff. My precious Christmas decorations had taken up almost a fifth of the basement where everything from stockings to Spode Christmas Tree china had lived in the spring, summer, and fall months. Each December, they'd burst forth, joining the anise of pizelles and the pungent aroma of wine glogg to jolly up the house.

Our new home is bursting with unpacked boxes. The tree decorations are in the shed…somewhere. Sadly, we couldn't find them, so the poor thing stands in all its nakedness. Finally, I broke down and bought some glitzy ornaments at Big Lots—shiny red, gold, and green.

They aren't the same as our old familiar ones—the shepherd boy with the bunny in the basket from Mom or the silver snowflake from Grandma or the cute ornaments my mother-in-law made. But the missing things and the many unpacked boxes aren't the only inconveniences making me sad today.
An unfinished kitchen remodel is another. The beautiful cherry cabinets are in and the tiled floor is installed. The gas stove is working, and we have been trying to cook meals, but the gorgeous farmhouse sink is just sitting—in all its glory—with no plumbing.

We have to use the water from the bathroom sink, but this is not a good place to do dishes due to the cat box and potty pads, not to mention the toilet. So we wash dishes in the shop or the motor home. However, there's no place to make Christmas treats or bake cookies in those spots.
I pulled up to a stoplight and wiped the tears off my cheeks. I have got to make this Christmas special for me. What can I do to give me a feeling of tradition and joy? I know! I can decorate the house with what I find of my old favorite things and use the Big Lots glitzy ornaments to give our tree a new look. Who knows? Maybe the change will be refreshing, and maybe I'll enjoy the old ornaments even more next year. Gosh! Now I hope I don't find the old ones and have to make a new decision. And as for a Christmastime treat…I'll make Chex Mix. No water needed and only a pan, a spoon, and a measuring cup to wash. Hooray for Chex Mix…and for last minute remedies for drooping cheer!
Kathryn Minturn lives with her husband Matt and two cats, Skippy and Scout, in Shoreline. She has been published in the Pike Place Market News and was a finalist in the 2014 Pacific Northwest Writers Association Short Adult Topic category for her personal essay "Erosion."

SHARING STORIES is a weekly column for and about the 50 plus crowd living in the Puget Sound region. Send your stories and photos to ariele@comcast.net. Tell local or personal stories; discuss concerns around aging and other issues; share solutions, good luck, and reasons to celebrate; poems are fine too. Pieces may be edited or excerpted. We reserve the right to select among pieces. Photos are always a plus and a one-sentence bio is requested (where you live, maybe age or career, retired status, etc.).
SHARING STORIES is featured on www.northwestprimetime.com, the website for Northwest Prime Time, a monthly publication for baby boomers, seniors, retirees, and those contemplating retirement. The newspaper can be found in the greater Seattle area and other Puget Sound locations. For more information, call 206-824-8600 or visit www.northwestprimetime.com. To find other SHARING STORIES articles on this website type "sharing stories" in the search function above.
Editor's Picks