Putting Up a Tree
Sharing Stories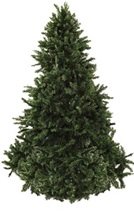 Putting Up a Tree
I had dreamed of having a splendid, sweet-smelling Christmas tree towering over our family living room, spreading an aura of good cheer to all below.
It was our first Christmas in the Pacific Northwest, the year my two sons (then 17 and 14) and I had immigrated to Edmonds from the Philippines. After many Yuletide celebrations spent in the tropics, we'd had our fill of plastic Christmas trees. I was determined to celebrate our first Yuletide season in Washington by purchasing a genuine forest-grown evergreen tree.
The plan, of course, was to have the tree up by December 1st. But I knew something was terribly awry the morning my wall calendar told me that it was already…oops…the 22nd of December.
Only two days before Christmas, and still no tree.
"Get in the car, Sam," I told my younger boy.
"What for?"

"We're going to find us an honest-to-goodness, living Christmas tree."
"You mean a freshly dead Christmas tree," Sam said, pulling his cap down over his ears in the freezing car.
While driving through Shoreline, we spotted a cluster of Christmas trees in a fruit market that had closed for the winter. The trees stood under the moonlight like a small ragtag army of sentries. I surveyed the candidates. Of the entire bunch, one tree stood out above the rest. "He" was about six feet tall and had a pleasing shape.
"What do you call that one?" I asked the lumberjack who was selling the trees.
"That's a Wild Douglas fir tree."

I looked at this tree again, and my heart went THUMP. It couldn't be helped. It was love at first sight.
"You can have him for ten dollars," he said.
DEAL! I forked over ten dollars to the lumberjack plus a two-dollar tip for tying the six-foot tree onto the roof of our car.
"Wow, Mom—that was a bargain!" Sam exclaimed as we drove home.
"Always look on the bright side, son. The longer you hold off on those 'good intentions,' the closer you get to Christmas Day…and the cheaper the tree."
My eldest son, Max, met us in the parking lot of our apartment building. The boys managed to haul up "Wild Doug" to our second-floor apartment where they carefully set him down on his side in the balcony.
December 23: Max went to five different stores but couldn't find a single tree stand. Understandably, all the stands had been sold to customers paying full price for their Christmas trees back in November. And so, that entire day of December 23rd, we watched our verdant Wild Doug gaze back at us from a horizontal position.
On the morning of the 24th, necessity being the mother of invention, and slightly influenced by his screaming mother, Max improvised. He grabbed a long cardboard roll from one of my Costco Christmas wrapping papers, cut the roll into three eight-inch pipes, and glued them into a tripod. Next, he glued his makeshift tripod onto a Santa Claus plastic plate tray that had cost a dollar. He then hoisted Wild Doug up and sank the base of the tree trunk into the tripod. While waiting for the glue to dry, he decorated our Christmas tree with tinsel and ornaments from another tree—that is, the Dollar Tree, a store on Highway 99.
Editor's Picks