In a pickle? Salt-free ways to preserve veggies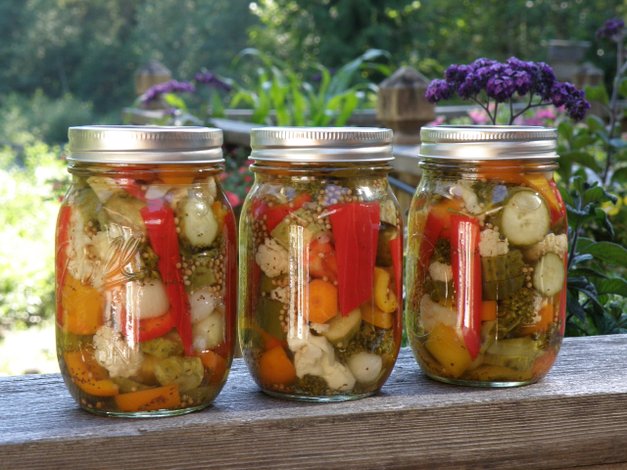 Waiting for spring and the return of local veggies to your plate can be hard. But there is hope! Pickled veggies are delicious and not hard to make. I recall and really appreciate what my grandmother did with beets in the winter. She pickled them. Pickling without salt is a great way to add new flavor to veggies that you may be getting tired of. It almost makes them a new food.
Pickled vegetables are found around the world: greens in China, Japan's daikon, Indian vegetables with curry spices, Mediterranean turnips and lemons, and even Italian mixed vegetables and garlic. Home-pickled vegetables may sound salty, but it is vinegar that "quick pickles" vegetables, not salt. And that's great news because salt is hard on your blood vessels, hearts and kidneys. So, leave out the salt, add some inventive seasonings, and capture that fresh food taste until spring greens arrive.

You can use this quick pickle technique with most vegetables. Try white or red wine vinegar, or my favorite - champagne vinegar - for a milder, less astringent flavor. Pickled vegetables make great appetizers or accompaniments to meat and chicken dishes. They're also great on salads and in sandwiches or burgers. They complement any meal because they use flavors besides salt – sour, sweet and bitter.

You can quick pickle just one or two jars (they don't have to be canning jars) of vegetables. You don't need any special equipment, and you can have great additions to meals for several months, as long as you keep them refrigerated.
Nana's Pickled Beets
Slice these and serve over lettuce with crumbled blue cheese and pecans for a great salad. These beets keep for two months refrigerated.
4-5 medium beets


1 cup cider vinegar
4 tablespoons sugar
4 tablespoons whole allspice
¼ cup fresh basil or 2 tablespoons dried
Put beets in bowl and microwave 10 to 15 minutes, until tender. Remove skins. Chop into bite-size pieces or slices. Mix all other ingredients and microwave five minutes. Pour over beets, add basil, and let rest 30 minutes. You can serve over salads, or as an accompaniment.
Nutrition Information per ½ cup:
Calories: 22
Carbohydrates: 5 g
Protein: 0 g
Sodium: 14 mg
Mexican Pickled Carrots
Add these traditional spicy hot carrots to tacos, or put in a taco salad. Use gloves when working with jalapeño peppers, or strip the seeds out under running water.
1/4 cup vegetable oil
3 cups cider vinegar
1 teaspoon ground cumin
1 teaspoon oregano
1 teaspoon black pepper
1 tablespoon chili flakes (optional)
1 tablespoon mustard seed
1 pound carrots cut into thin rounds
1/4 cup thinly sliced onion
3 whole garlic cloves
1 jalapeño, sliced, seeds removed.
Bring vinegar, vegetable oil, and chili flakes to a boil in large pan. Reduce heat to medium and simmer about five minutes. Add spices and cook another five minutes. Add carrots and remaining ingredients, and cook about 10 more minutes. Cool and then refrigerate. Keeps for one month refrigerated.
Nutrition Information per ½ cup: