Celebrating WASPS
A talk on Women Airforce Service Pilots will take place in September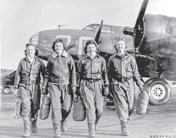 In 1942 the U.S. was faced with a severe shortage of pilots. Leaders gambled on an experimental program to help fill this void: train women to fly military aircraft so male pilots could be released for combat duty overseas.
The group of female pilots was called the Women Airforce Service Pilots –WASP for short. More than 1100 young women, all civilian volunteers, flew almost every type of military aircraft, including the B-26 and B-29 bombers. Their job was to ferry new planes long distances from factories to military bases. They tested newly overhauled planes, and towed targets to give ground and air gunners training who were shooting live ammunition. It was a dangerous job: 38 female pilots lost their lives serving their country.
Today, only 125 WASP remain to tell their story.
WASP expected to become part of the military during their service. Instead, the program was canceled after just two years. They were dismissed without ceremony.
Debbie Jennings met her first WASP twenty years ago by the name of Doris Tanner. Her story fired Debbie into action, "This is a story that HAS to be told!" And for the next ten years Debbie has been telling their story, through pictures, narrative and especially in filmed interviews of these brave women. Debbie developed the largest WASP exhibit in the country, a permanent place in Seattle's Museum of Flight.
"It took nine months of hard work and was my proudest achievement," she said of the exhibit. Debbie was the producer and interviewer of sixteen WASP pilots for Paul Allen's Flying Heritage Collection. Her interview was included in the documentary series, The War, Pacific Northwest war stories on PBS. Debbie is now working on a ten-hour film miniseries for television which will include WASP interviews. Wish her luck!
Through the efforts of many volunteers, WASP was finally granted military status in 1970. After 65 years the group received the highest honor given by the U.S. Congress, the Congressional Gold Medal.
I asked Debbie to describe a typical WASP pilot. "Rugged, have no fear, risk-takers, still feminine," she smiled. And how would I describe Debbie? "Exuberant, and on fire!"
Don't miss her presentation at the Des Moines Normandy Park Senior Activity Center, 2045 South 216th Street, September 15 at 7pm. She'll be telling us real stories of individual WASP pilots. In this area, the oldest is ninety-nine. "We're going to bring her to attend if she can," said Debbie.
For more information, call 206-878-1642. Suggested donation for Debbie Jenning's WASP presentation is $2.