Experience the WOW factor of Sweetwater County, Wyoming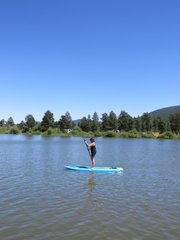 My goal was not to fall in…especially so close to the dock where there was a group of curious onlookers attentively watching my stand-up paddleboarding attempts on the lake at Red Canyon Lodge. It was a make or break moment as I rose up from my knees, first to an awkward squatting position and then slowly to full extension. I was shaking as I stood on the board, legs quivering like jelly and hands clenched in white knuckle fashion around the paddle. Then I began to move, trying to remember to retain a slight bend in my knees, keep eyes focused ahead and alternate paddle strokes from side to side. It was slow going initially, as I didn't trust my balance nor the board's stability, and I felt like a frozen statue. But, gradually, I started to loosen up, as I gained confidence in my skills. Though I never quite reached that Zen moment of becoming one with my paddle, I did, however, feel proud of my accomplishments and excited to learn a fun, new sport.
Stand-up paddleboarding is just one of dozens of activities visitors can experience while exploring Sweetwater County, Wyoming. To many, this area is relatively unknown in comparison to the state's more popular destinations of Yellowstone and the Tetons. What people don't realize, however, is that this hidden gem is an all-ages adventure playground, ripe for discovery.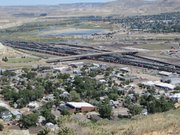 Located in the southwestern corner of Wyoming, Sweetwater County is ideally situated for those heading to the famed national parks. It makes a perfect stopover, but once you realize how much there is to see and do here, you'll most likely want to extend your stay. There's something for everyone, from the adrenaline junkie to the history buff and rock hound.
Start in Rock Springs, where you can take a trip back in time and dig into the state's mining and railroad past. This desert oasis, named for a former spring that babbled through town, grew with the development of the area's coal mining production and subsequent need for railroads. Today, it thrives with trona mines. The mineral is a common source of soda ash used in manufacturing glass, chemicals, paper, detergents and textiles. A booming oil and gas industry is also responsible for keeping the town on the map.
You can easily get your history fix at the Rock Springs Historical Museum and the Sweetwater County Historical Museum in nearby Green River. There you'll find exhibits on everything from coal mining and the Union Pacific Railroad to early settlers and notorious outlaws, like Robert Leroy Parker (most commonly known as Butch Cassidy), who journeyed through the area over the years. Or, you can set out to discover remnants of bygone days as you explore the surrounding region with its numerous historic pioneer trails, fossil beds and petroglyphs.
One of the highlights of Sweetwater County is getting to see the wild horses that make their home in this corner of the state. These beautiful creatures run free and untamed, reminding visitors that the frontier spirit is still alive and well in our country. Though you can drive the Pilot Butte Wild Horse Scenic Loop on your own – a 23-mile route on an often rough road (reliable transportation is a must!) – the best way to view these magnificent beasts is via a guided excursion with Green River Wild Horse Tours & Eco Safaris. Owner and guide Rich Nobles has extensive knowledge of the wild horses, as well as of their history and the high desert country they inhabit. Not only will you be able to see the horses and possibly other creatures such as pronghorn, coyotes, mule deer, hawks, eagles and more in their natural environment, but you'll get a real taste of the scenery. Impressive vistas surround you at every turn as you navigate through a stark and unforgiving landscape of sandstone, shale, sagebrush and buffalo grass, dominated by White Mountain.