Loving Grandma
Sharing Stories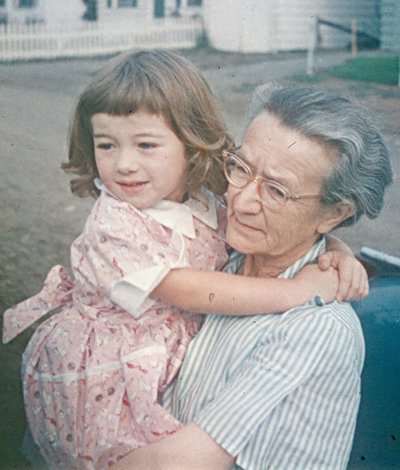 Loving Grandma
I had a close relationship with my maternal grandmother—Lillian Pearl Davis. We spoke daily for many years and she lived to 98—able to meet my daughter and enjoy her childhood years too.
My grandmother and I liked being together. She didn't drive so we walked and bussed to many places. We shopped in the University District where she and my grandfather lived. We visited him at his cabinet making studio on the Ave, and he'd cut intricate figures for me with his gigantic table-sized jigsaw. Then he'd give us money, and Grandma and I would be off—buying clothes or shopping for the newest convenience foods.
Having cooked for a large farm family as a child—she was only ten when her mother died—Grandma loved the ease of bakery sliced bread, the first frozen meals, and Jiffy Pop. We made lots of things from mixes—cakes, frosting, cookies, corn bread—though she still canned peaches and pears…which were INSANELY good!
At night—until I was in my teens—I slept in Grandma's large bed that was surrounded by the pictures my artist mother had painted for her. She read many, many books to me in that bed. My special favorites were the "twin books," all with a pair of twins in a different setting: The French Twins, The Dutch Twins (who slept in a bed built into the wall next to the stove), the Spanish Twins, The Hawaiian Twins, The Eskimo Twins, The Chinese Twins, The Japanese Twins, The Italian Twins, The Scottish Twins—probably many others—but my favorite was the Cave Twins who had scruffy red hair and were quite a rowdy handful for Cave Mama and Cave Papa.
When my grandmother began to nod off, I'd say "read, read" and even recall pushing her head toward the book…spoiled little child that I was. As the oldest of all the grandchildren, I was coddled and cuddled beyond all reason.
After she'd fall asleep, I'd watch the occasional car lights playing across the bedroom wall as the room faced onto Brooklyn Avenue. It was both really exciting and peaceful being at my grandparents' house.
When we stayed home, she cooked marvelous things like Swiss steak sandwiches for me and always cleaned out the large tub with sweet smelling Ivory soap for my evening bath. She read and explained the "funny papers" to me—the newspaper's comics section—and we spent many hours sitting side-by-side on her purple tufted couch with her gently stroking my hands and fingers and telling me I had the Wilson "tailor's hands." I didn't know what that was—but it sounded like a compliment.
I loved dressing up in her clothes—though they were the ultimate in old lady dresses and shoes. At only five foot two, her things fit me much better as a child than most adult clothes. I loved her hats and still have the dresser where they had been stored. By three, I'd charge into her house and up the stairs to it, excitedly singing "Hat-ah, hat-ah." Once, at maybe seven, I put on all her light nylon dresses—one over the next—and all her belts. I just couldn't get enough of Grandma, her things, her house!