Free Sundays eBooks
Sharing Stories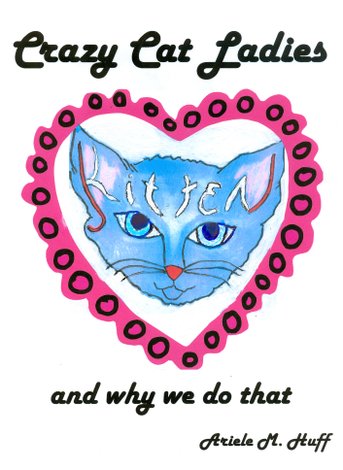 Free Sundays
A different FREE eBook each Sunday (except holidays).
You can find them by going to Amazon.com and putting the title and my name (Ariele M. Huff) in the Search box. Or you can just click the link after the title on this page.

May 3rd Crazy Cat Ladies and why we do that http://www.amazon.com/dp/B00V975HKG This is the story of how my husband and I graduated from lifetime owners of one-cat-at-a-time to Crazy Cat Ladies and why we love it so much. The answer is NOT what you think it is!
May 17th The Perks of Aging: Blessings, Silver Linings, & Convenient Half-Truths http://www.amazon.com/dp/B00VFAFAAE This book was created as a response to and with the help of seniors in Write about Your Life groups. Their contributions & inspiration are an integral part of this work—a gift of many hearts to yours! (Also available in paperback.)
May 24th The Queen of Mean: The Conversion of a Cold and Prejudiced Heart http://www.amazon.com/dp/B00TMCFPBG A tattoo appears and comes to life, transforming a bitter bureaucrat with letters in her own handwriting and nightly out-of-body travel. True stories from immigrants and refugees mingle with folktales and myths in a book that shows how spirits can bring magical change—whether you want it or not! Fantasy novella. (Also available in paperback.)
Contact: ariele@comcast.net
Ariele Huff is a 3rd generation Seattleite, a creative writing teacher, and author of several eBooks including Kitten Love, Learn from My Mistakes, Crazy Cat Ladies and why we do that, Making Mud Angels, The Perks of Aging, The Queen of Mean, and Fifty Shades of Graying at Amazon.com.
SHARING STORIES is a weekly column for and about the 50 plus crowd living in the Puget Sound region. Send your stories and photos to ariele@comcast.net. Tell local or personal stories; discuss concerns around aging and other issues; share solutions, good luck, and reasons to celebrate; poems are fine too. Pieces may be edited or excerpted. We reserve the right to select among pieces. Photos are always a plus and a one-sentence bio is requested (where you live, maybe age or career, retired status, etc.).
SHARING STORIES is featured on www.northwestprimetime.com, the website for Northwest Prime Time, a monthly publication for baby boomers, seniors, retirees, and those contemplating retirement. The newspaper can be found in the greater Seattle area and other Puget Sound locations. For more information, call 206-824-8600 or visit www.northwestprimetime.com. To find other SHARING STORIES articles on this website type "sharing stories" in the search function above.