Pecking Out the Benefits of Eggs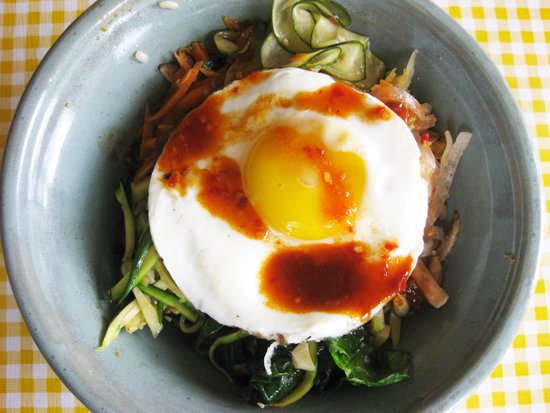 Be Bop Breakfast
Use kale, Swiss chard or your favorite greens in this powerhouse breakfast that includes B vitamins and nutrients from eggs and whole grains. Adding kim chee or sauerkraut introduces probiotics to support a healthy gut.

2-3 tablespoons butter, divided

2-3 scallions, chopped

2 cups cooked brown rice

4-5 kale leaves, cut into ribbons

2 eggs


Condiments:

Tamari

Apple cider vinegar

Kim chee or sauerkraut

Thai chili sauce


Heat a large cast iron or other nonstick skillet. Put about 2 teaspoons of butter in and add scallions. When they are bright green, add the cooked rice. Stir it around until thoroughly heated. Divide rice into 2 large bowls; sprinkle with a little tamari if desired.


Put 2 more teaspoons of butter in the skillet. Add kale and toss until the kale is starting to wilt and glistening. Put 2 tablespoons of water on the kale and cover until water is gone and kale is tender. Divide kale into the bowls with the rice; sprinkle with a little vinegar if desired.

Add remaining butter to skillet and heat until it sizzles; break eggs into skillet. When whites are no longer transparent, flip each egg. Cook to desired doneness. 

Put one egg into each bowl. Add a tablespoon or two of kim chee or sauerkraut. Dress all with a tiny trail of Thai chili sauce. 


Preparation time: 12-15 minutes

Makes 2 servings

Reprinted with permission from "Feeding the Young Athlete Family," by Cynthia Lair (Readers to Eaters, 2012).
Non-profit, accredited Bastyr University (bastyr.edu) offers multiple degrees in the natural health sciences, and clinical training at Bastyr Center for Natural Health (bastyrcenter.org), the region's largest natural medicine clinic.