Ariele Learns to Drive
Sharing Stories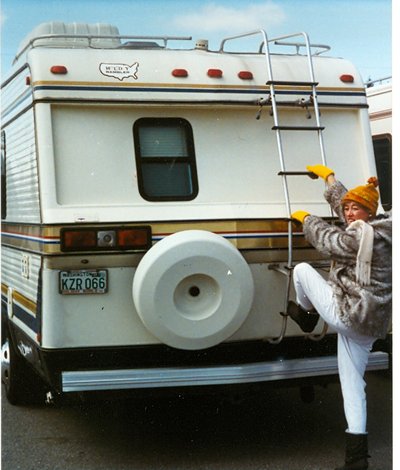 Ariele Learns to Drive
In high school, when most of my friends were learning how to drive, it wasn't even a consideration for me. Women in our family didn't drive—neither of my grandmothers nor my mom and her two sisters. Driving was a husbandly duty…period. This was no problem for me as I had a father to take me to flute lessons, and boyfriends who liked to get me into their vehicles. For all else, I was an adventurous walker and bus taker. By 16, I began to have girlfriends who could drive too.
At 26, I had a five-year-old daughter and an alcoholic husband I needed to divorce. My lawyer said, flatly, "You need to learn how to drive, and you need to do it before we go to court so I can get you the car. You're going to need it." That gave me about two weeks to learn.
My father was delighted to teach me. Though not patient about many things, he was really good when giving instructions in any area. We went to parking lots when they were empty and practiced how to turn into slides and do figure eights around fluorescent cones he'd procured at work. We parallel parked, and he taught me niceties like pumping the brakes instead of standing on them for easier stops.
In fact, that time was one of the most pleasant ones I can recall with my father. However, when I went in for the test, I was nervous as I'd had such a short time to learn and practice. I white-knuckled it through signaling for turns and lane changes, parking, and driving in traffic. When we arrived back at the DMV and I saw the parking spot right in front of me, I felt a wave of relaxation—I'd done it! Of course, I was suddenly so relaxed that my foot was a bit too heavy on the gas or light on the brakes…and I ran right into the link fence. I dropped my head into my hands in abject embarrassment and frustration.
"I guess I blew that!" I stammered through my fingers. In a gentle voice, the examiner replied, "The test was already over. What you do after it doesn't affect it. You passed." As you can imagine, I gave that kind man a really happy and grateful face and repeated thanks.
Now, my second husband taught me how to drive a stick—in a half-ton hay truck. But that's another story!
Ariele Huff is a local writing instructor and webhost of Sharing Stories for Northwest Prime Time. She'd like to invite others to share their Learning to Drive or other Driving Experiences.
SHARING STORIES is a weekly column for and about the 50 plus crowd living in the Puget Sound region. Send your stories and photos to ariele@comcast.net. Tell local or personal stories; discuss concerns around aging and other issues; share solutions, good luck, and reasons to celebrate; poems are fine too. Pieces may be edited or excerpted. We reserve the right to select among pieces. Photos are always a plus and a one-sentence bio is requested (where you live, maybe age or career, retired status, etc.). SHARING STORIES is featured on www.northwestprimetime.com, the website for Northwest Prime Time, a monthly publication for baby boomers, seniors, retirees, and those contemplating retirement. The newspaper can be found in the greater Seattle area and other Puget Sound locations. For more information, call 206-824-8600 or visit www.northwestprimetime.com. To find other SHARING STORIES articles on this website type "sharing stories" in the search function above.