Foods to Support Eye Health; More than Just Carrots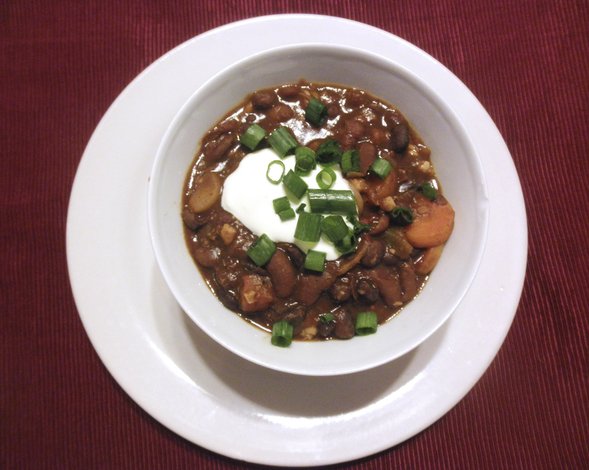 This recipe is full of carotenoids, vitamins A, C, E, and other nutrients that support eye health. Vegetarian chili is low in saturated fat and provides a complete protein when combined with a whole grain.
Yield: 4-6 servings
Hands-on time: 30 minutes; total cook time: 1 hour.
2 tablespoons olive oil
1/4 teaspoon red pepper flakes (optional)
1 medium onion, chopped
2-4 cloves garlic, minced
3 small bell peppers (green, red and orange), diced
1 large carrot, diced
2 tablespoons chili powder
1/2 teaspoon paprika
1/4 teaspoon cumin
1/2 teaspoon ground black pepper
1/2 teaspoon sea salt, more to taste
1/8 teaspoon cayenne pepper (optional)
2-15 oz. cans kidney beans
1-15 oz. can black beans
1 cup water
1-15 oz. can diced tomatoes with fire roasted peppers
1 medium sweet potato, cut into 1/2" cubes
Heat soup pot over medium heat, add olive oil and coat bottom of pot. Add pepper flakes and onion; cook until onion is translucent. Add garlic, peppers and carrots; sauté until peppers and carrots are tender but not too soft. Add spices, salt and pepper and stir to combine. Add beans, water, tomatoes and sweet potato, stir, cover and reduce heat to low (add more water if thinner chili is desired). Simmer for 30-40 minutes, stirring occasionally. Chili is done when sweet potato breaks easily with fork. Optional garnishes: sour cream, green onion, cheese, avocado, cilantro.
Copyright 2014, D. Dailidenas, original recipe. (Reviewed by Cynthia Lair.)