Author Beth Baker to speak in Seattle on the importance of creating community as we age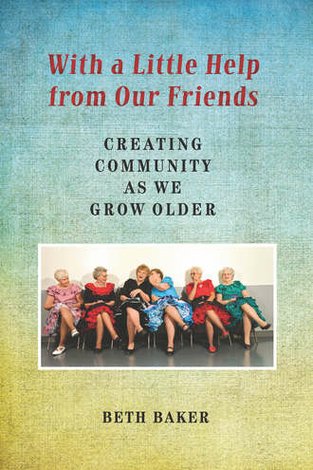 Author Beth Baker and Terry Tazioli, PBS television host of Well Read, will offer a free book talk about Baker's new book, "With a Little Help from Our Friends – Creating Community as We Grow Older," on Sunday, Sept. 21, from 4 to 6 p.m., at Plymouth Congregational church in downtown Seattle.
"With a Little Help from Our Friends – Creating Community as We Grow Older" tells the story of people devising innovating ways to live as they approach retirement, resulting in optimal happiness and contentment. Research has shown the importance of social support to healthy aging and the risks associated with loneliness and isolation. Baker interviewed a variety of adults for this book, including residents of a senior artists' colony in Los Angeles; residents of an affordable mobile-home cooperative in a small Oregon town; multigenerational families that balance togetherness and privacy; and best friends moving in together. The book also examines the challenge of expanding the home-care workforce and the potential benefits of new technologies such as webcams and assistive robots.
Charlene Boyd, administrator of Providence Mount St. Vincent, who is nationally known for her work in culture change in long-term care, notes, "We're so pleased to bring Beth back to Seattle following her acclaimed work in 2007: `Old Age in a New Age: The Promise of Transformative Nursing Homes.' This latest research in her new book presents yet again an entirely new way of thinking about aging in the community."

Plymouth Congregational Church is located at 1217 Sixth Avenue in Seattle. The informal discussion will be held in Hildebrand Hall. There is no charge to attend, and parking is free in the Plymouth parking garage on University Avenue.
The program is presented by Providence Mount St. Vincent, Full Life Care, Plymouth Congregational Church, and the Pioneer Network.
Baker has written extensively on medical issues and aging and is features editor of BioScience, the journal of the American Institute of Biological Sciences. Her work has appeared in the Washington Post, AARP Bulletin, Washingtonian and Ms. Magazine. Baker and her husband live in a close-knit community in Maryland.

Tazioli, PBS television host of Well Read, is a long-time Seattle journalist who served as lifestyles editor and travel editor at The Seattle Times and editor and producer for KING-TV.
For more information, call 206-938-6194.