Putting an "I" into Eye Care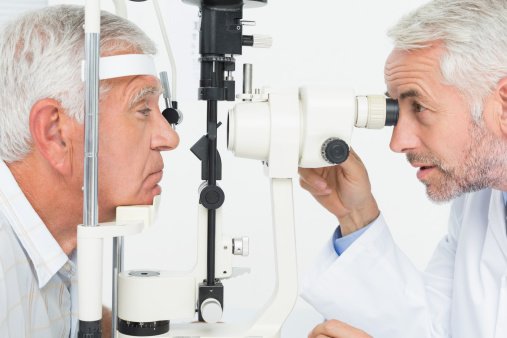 When going through your health checklists, you probably think about your blood pressure, weight and cholesterol levels. But what people often neglect is actually right in front of our eyes - our vision.
Properly caring for your eyes is important for preventing vision loss and blindness, as well as protecting your overall health. The experts at the National Eye Institute recommend following these five steps to take care of your eyes and protect your vision.
Get a comprehensive dilated eye exam
You might think your vision is fine or that your eyes are healthy, but visiting your eye care professional for a comprehensive dilated eye exam is the only way to really be sure.
Many common eye diseases, such as glaucoma, diabetic eye disease and age-related macular degeneration, often have no warning signs. A dilated eye exam is the only way to detect these diseases in their early stages.
During a comprehensive dilated eye exam, your eye care professional places drops in your eyes to dilate, or widen, the pupil to allow more light to enter the eye. This enables your eye care professional to get a good look at the back of the eyes and examine them for any signs of damage or disease.
Live a healthy lifestyle
Living an overall healthy life is good for your eyes. This includes:
Maintaining a healthy weight
Being overweight or obese increases your risk of developing health problems that can lead to vision loss.
You've heard carrots are good for your eyes, but eating a diet rich in other fruits and vegetables, particularly dark leafy greens, is important for keeping your eyes healthy, too.
Research has linked smoking to an increased risk of developing age-related macular degeneration or cataract, both of which can lead to blindness.
Managing chronic conditions
Many conditions, such as diabetes, hypertension, and multiple sclerosis, can greatly impact vision, resulting in inflammation of the optic nerve, diabetic retinopathy, glaucoma and even vision loss. Managing these conditions with the help of your health care provider can often prevent blindness.
Know your family history
Talk to your family members about their eye health history. It's important to know if anyone has been diagnosed with a disease or condition. This will help to determine if you are at a higher risk for developing problems yourself.
Use protective eyewear
Wear protective eyewear when playing sports or doing activities around the home. Most protective eyewear lenses are made of polycarbonate, which is 10 times stronger than other plastics.
Wear sunglasses
Sunglasses are a great fashion accessory, but their most important function is to protect your eyes from the sun's ultraviolet rays. When purchasing sunglasses, look for options that block 99 to 100 percent of both UV-A and UV-B radiation.
You can find more information on these preventive measures and dozens of other vision-related topics at www.nei.nih.gov.