Top reasons why your next cruise should be a river cruise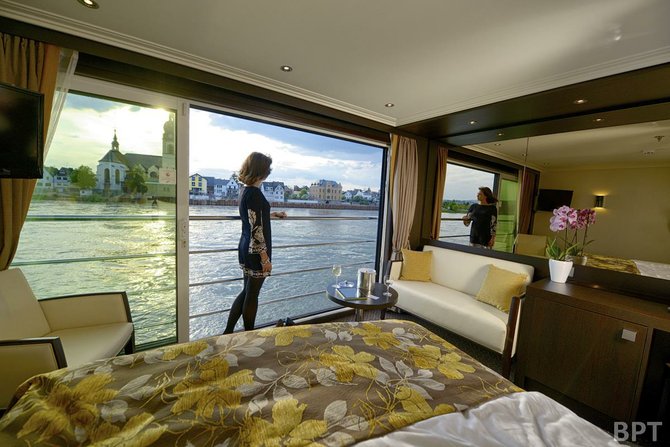 BPT) - The travel industry's hottest trend, river cruising, provides a wonderful alternative to mainstream cruises and megaships. With hundreds of options to sail the amazing waterways of Europe (the Danube, Rhine, Rhone, Seine, Saone and Moselle rivers) and exotic destinations via the Yangtze, Mekong, Irrawaddy and Amazon, small-ship cruising is becoming one of the most popular ways for Americans to both experience and explore the world.
Part of the appeal of the modern river cruise is that it delivers a cruise vacation completely unlike other cruise experiences.
River cruises – and river cruise vessels – are built differently. Instead of thousands of passengers, there might be 150 on a river cruise vessel. Instead of miles and miles of ocean views (if you have an outward-facing room), 100 percent of modern river cruise ship staterooms face outside, many with floor-to-ceiling windows, affording panoramic views at every moment of villages, castles and vineyards. And, while deals drive megaship bookings, river cruising provides travelers a different value: An inclusive, destination-focused vacation where in-port excursions and activities, as well as drinks and dining are included in the price of the cruise.
"Each time cruisers disembark from our contemporary river cruise ships, they are in a new location, often within walking distance of the village square or city center," says Patrick Clark, managing director of Avalon Waterways. "Our cruisers can not only experience metropolitan areas like Paris, Vienna, Amsterdam, Budapest or Ho Chi Minh City, they'll cruise to off-the-beaten-path gems such as Bruges, Bernkastel, Lyon and Durnstein, where passengers can take part in included excursions or even rent a bike to explore on their own."
For travelers interested in embarking on a river cruise for the first time or choosing a river cruise company that best fits their needs, Avalon Waterways has created the following tips to choose the perfect, intimate escape:
New, newer or newest ship?
Clark says there's a whole new group of river cruise ships released since 2004. Older ships offer travelers limited space and views (with small windows that don't open). The new class of river cruise ships – including the industry's only "Suite Ships" – features large, contemporary spaces, as well as floor-to-ceiling, wall-to-wall windows that open wide to enjoy the fresh air and magnificent landscapes.
Room to relax and unwind.
With a new class of ships from which to choose the perfect cruise experience, travelers should pay attention to the square footage of their stateroom. While some ships feature 200- and 300-square-foot suites, others offer less than 130-square-foot spaces. Know what you're getting when you book (172- to 200-square-foot staterooms come standard with Avalon's fleet).
To balcony or not to balcony?
Unlike ocean cruise ships, river cruise vessels have very specific height and width requirements: They must fit under medieval bridges and through locks. As a result, space on river cruise ships is a top commodity. And, while some river cruise companies have chosen to limit stateroom space by offering travelers a small balcony, others have created innovative ways to provide both space and fresh air.