Planned or spontaneous, pull off your next party with ease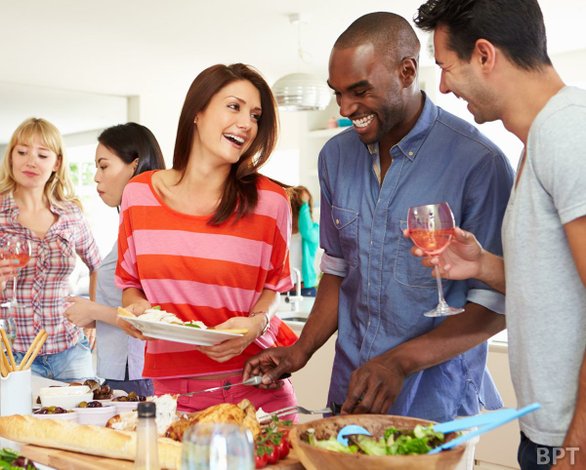 (BPT) - Football parties, back-to-school cook outs, Halloween celebrations and cooler temperatures – there's so many reasons to plan a fun fall gathering at your house, or spontaneously invite your friends over for the afternoon. No matter if they're planned or spur-of-the-moment, you can host a fall gathering without doing a lot of work.
Instead of trying to organize a sit-down dinner, opt for the relaxed approach with delicious appetizers and food samples scattered strategically in areas around the house, designed to encourage your guests to mingle and share stories. Here are some tips to pull off this unbelievably simple style of entertaining:
Intimate gatherings – In your home, where will guests naturally congregate? In many homes it's the kitchen, but for some, it might be the living area or dining room. Start with this room first. Look for ways to arrange the furniture so food can be easily accessed without creating a crowded area. Some ways to do this include grouping chairs and small tables into corners, which will encourage guests to sit down and comfortably enjoy the food in small groups.

Entice with food – The food you serve can be just as much a part of the social gathering as the people you invite. For example, cheese fondue will encourage your guests to come back and try multiple combinations of vegetables, meats or bread to dip and taste. And to make the food prep even easier, Emmi Original Fondue from Switzerland has all the elements of traditional fondue and is ready to heat and serve right out of the package. Your guests will love the blended tastes of signature Swiss cheese, wine, kirsch brandy, and spices from Switzerland when melted in your fondue pot, as they give chopped veggies and dipped bread a completely new taste experience. Fondue is the perfect way to warm up on a cool day with friends huddled around the pot.
At another table, place fun dessert bars cut into small pieces so your guests will feel comfortable coming back to sample several. And at a third table, offer everyone a smorgasbord of finger foods– again in small servings – that entice visitors to make return trips for more. To keep your party planning simple, make the dessert bars ahead of time and choose finger foods that don't need a lot of prepping like nuts, fruit and cured meats.
Sharing stories or dancing? – If you're having an afternoon party, there's a good chance your guests will be interested in food and conversation. So plan to keep the music volume low so no one will have to shout over it to be heard. Remember, too, that the more people you have talking at your party in small groups, the louder the conversation volume will be.
But if you're holding an evening party and anticipate guests will want to dance, you might want to turn the music up. Create a playlist or two of music that is appropriate for your event, allowing you to switch the tempo and volume at a strategic moment with the push of a button.
With these simple tips, you can easily host a spontaneous or planned gathering without a lot of stress. It's a great way to celebrate the fall season with your closest friends and family.