Ban the Can!
Katy G. Wilkens | Oct 6, 2014, 10:27 a.m.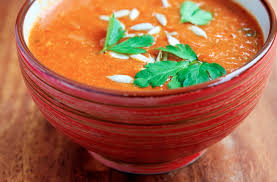 Most canned soups have more salt in one serving that you should have for a whole day. The roasted pepper tomato soup recipe we share has 2,000 mg of sodium for 16 servings. That is less than the sodium in just one cup of commercial canned soup!
Making your own soup base is easy. You can freeze it and have it ready, or whip up a simple substitute in the microwave – it only takes about three minutes. You will save money, eat less salt, and have more flavorful meals!
Simple Soup Base
Makes 2-4 cups
2 Tbsp. flour
2 Tbsp. margarine or butter
2 cups milk
¼ tsp. dry mustard
¼ tsp. paprika
½ tsp. parsley, basil or any other fresh or dried herbs you like
Mix flour and margarine or butter together in a 2-cup glass measuring cup. Microwave for 30 seconds, stir. Microwave for another 30 seconds. Add milk and spices and stir. Microwave for 1 minute, stir again. Microwave for 1 more minute. If not thickened, add 1 more minute. You can do the same thing on the stove, and the soup will have less of a starchy taste. Use in place of any creamed soup. For Cream of Mushroom, add sautéed fresh mushrooms, for Cream of Celery, add sautéed fresh celery.
Nutrient Information:
Calories: 117 Carbohydrates: 9 grams Protein: 5 gm Fat: 7 gm Sodium: 120mg
Mediterranean Roasted Pepper Soup
Serves 6. You can double the recipe and freeze for later.
2 Tbsp. olive oil
2 medium onions, sliced
6 garlic cloves, minced
1 tsp. paprika
½ cup lentils, sorted and rinsed
3 fresh red peppers, roasted
1 can (28 oz.) diced tomatoes
2 cups low sodium vegetable broth or water
2/3 cup nonfat dry milk
1 Tbsp. red wine vinegar
¼ cup cashews or almonds, toasted
Heat olive oil, add onions and cook slowly, stirring occasionally, until onions are very soft and caramelized. Add garlic and paprika, cook 2 minutes. Add lentils, peppers, tomatoes, and 1 cup broth. Bring to boil, reduce heat to maintain a steady simmer, cover, and cook until lentils are very soft, about 30 minutes. In several batches, puree in blender or processor until very smooth. Add dry milk and vinegar to the last batch. Stir together. Add more vinegar and broth if needed. If you freeze this soup, add a little more vinegar after it's reheated. Serve topped with a sprinkle of almonds and a drizzle of oil if you like.
Nutrient Information: Calories: 240 Carbohydrates: 31 gm Protein: 11 gm Fat: 9 gm Sodium: 128 mg
These and other low-salt recipes can be found on the Northwest Kidney Centers Web site at www.nwkidney.org.
The recipes in this column are meant for people who want to keep their kidneys healthy and blood pressure down by following a low-sodium diet. In most cases, except for dialysis patients, a diet high in potassium is thought to help lower high blood pressure. These recipes are not intended for people on dialysis without the supervision of a registered dietitian.

[Katy G. Wilkens is a registered dietitian and department head at Northwest Kidney Centers. She has a Master of Science degree in nutritional sciences from the University of Washington. See more of her recipes at www.nwkidney.org.]