Pat Wright: Seattle's First Lady of Gospel
Seattle's First Lady of Gospel
Pastor Patrinell "Pat" Wright has been exploring the rich tradition of gospel music her entire life.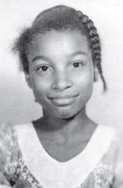 "I'm a preacher's kid," she revealed. "I've been in the church all my life and sang my first solo at age three in my father's church." She still recalls the applause from her first performance.
Director of Seattle's highly regarded Total Experience Gospel Choir, Pat Wright has traveled the world with the award-winning choir she founded in 1973.
Her experience with choirs goes way back. By 14, she had taught herself to play the piano and was conducting two choirs in her father's church in Carthage, Texas. "Carthage is just across the line from Louisiana, to give you an idea where this tiny place is. A little over 5,000 people," said Pat.
Her preacher father was instrumental in getting Pat involved with music, but her schoolteacher mother also exerted a tremendous influence in her life. Pat graduated as valedictorian in high school and went on to attend Prairie View A&M College in Hempstead, Texas.
Pat came to Seattle in October, 1964 to help out her sister who was going through a difficult divorce. The bus ride took about four days. "Being the only African American and the only female on the bus for the last 2500 miles was quite an experience," she exclaimed. When she finally got to Seattle, after having survived just about every abuse on that long ride, she wanted to get back on the bus and go home. "But I've always had a bulldog tendency," she admitted. "I decided to stay." She arrived in Seattle during the height of the civil rights movement and said that bus ride taught her the lessons of a lifetime, "the lessons I needed to survive…gave me a backbone that won't quit."
Her plan was to eventually return to Carthage, but then discovered she could make $7 a week in Seattle compared to $3 back home. "I stayed in Seattle."
She was living with her sister in Renton, attending a small church there. One day the family went into Seattle for church, and she heard music coming from another church across the street. "I remember stumbling over somebody's feet trying to get a seat because the place was pretty packed. And that somebody happened to end up being my husband," said Pat.
A few years later Pat was teaching gospel music in the Seattle school district and was also a gospel deejay on KYAC radio.
She taught gospel music at Franklin High School as well as being a "floater" to other Seattle schools. The district was looking for ways to keep the African American students interested in the choral music programs, "but the black kids didn't bother to come," says Pat. "They could get this music every Sunday in church." But once the choir won a jazz festival in Reno, "All the black kids were just standing at the door, 'Are you guys gonna go traveling and stuff? Man, I'm getting in this choir! Shoot!' And it just blew up, 108 students," said Pat. "And those kids could sing!"