Getting Back in Action: Participation is Key to Recovery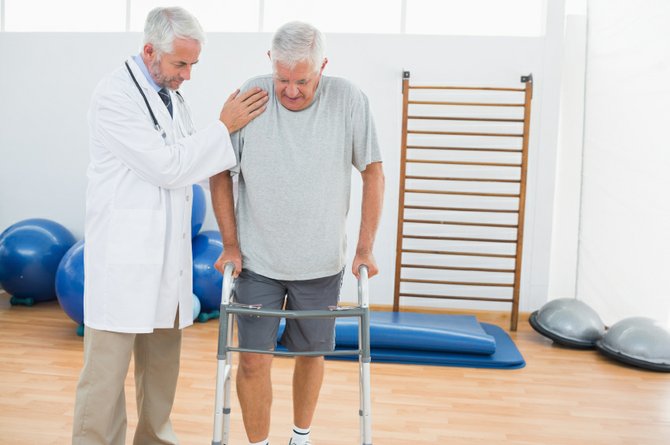 Stroke. Heart attack. Arthritis. Serious illness or injury often leads to a long, slow return to health. Thoughts of making a comeback take a backseat to simple survival. Recovery can also mean learning how to live with a disability. Researchers supported by NIH are studying the many roads people take to recovery. No matter where you've been, their findings may help you find your way back.
Whatever the condition, one of the most important keys to recovery is participation, says Karen Lohmann Siegel, a physical therapist at NIH's Clinical Center. "Many medical procedures and treatments are done to a patient by a health care provider, and the patient's role in the treatment is small," she explains. "That is not the case in rehabilitation. In rehab, the patients do a lot of the work themselves to get better."
Each year about 700,000 people in the U.S. have a stroke and 1.1 million suffer a heart attack. The moment you survive the critical stage of a cardiovascular illness or injury is when you start the recovery phase, says Dr. Michael Weinrich of NIH's National Institute of Child Health and Human Development (NICHD).
"We have good data that people who engage in moderate activity improve their cardiovascular system," Weinrich says. "That's particularly true for people who have a stroke."
Results from several studies stress the role of physical activity in rehabilitation. The good news is that it's possible to help people get enough exercise to improve their chances of recovery. Researchers supported by NIH's National Institute of Nursing Research, for example, have found that education and encouragement promoted exercise in a rehab program for people recovering from a heart attack or bypass surgery.
Physical activity speeds recovery in other areas, too. NICHD and NIH's National Institute of Neurological Disorders and Stroke are funding a 5-year clinical study on improving the motor skills of stroke survivors. Called EXCITE (Extremity Constraint Induced Therapy Evaluation), the study is looking at how well patients recover function in an arm disabled by stroke. For a period of time, the patient avoids using the healthy arm to perform daily tasks. Instead, the arm weakened by stroke does all the work. Results so far have shown that the forced activity strengthens the weak arm and helps the stroke survivor recover motor skills faster.
Joint replacement surgery is another condition for which physical activity speeds recovery. As people live longer and want to stay active, operations to replace worn-out knees and hips with artificial joints have become more common. Recovering from this type of surgery means learning to walk again. Not long after your surgery, doctors and nurses want you right back on your feet. A physical therapist will plan exercises to help you retrain your muscles and adjust to using the artificial joint. You'll probably feel some pain, but the movement will help you recover more quickly.
People who've had injury to their nervous system after disorders like stroke want to regain more than just basic movements. They want to get back to moving the way they did before they became sick. Scientists are now testing the idea that damaged muscles may recover better and faster with help from technology. NIH-funded researchers at Arizona State University have recently designed a lightweight robotic device called RUPERT (for Robotic Upper Extremity Repetitive Therapy) that helps stroke survivors regain some basic activity in their arms.