Homemade gifts infused with flavor
Northwest flavors come through in these easy-to-make gifts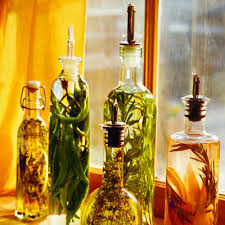 There is something so special about a homemade gift. It tells recipients you care enough to spend the most precious gift – your time – on them. You can make tasty, healthy gifts easily from ingredients you already have at home. Homemade food gifts will not only save you time fighting crowds at the mall, they'll save you money and let the recipients know you care about their health.
Infused vinegars, honey and sugar can build big, bold flavor. They are a good alternative to seasoning with salt, which is hard on blood vessels and kidneys. Infusions transfer saturated flavors to your tongue, make you feel satisfied and curb the salt craving. Flavors can be extracted from herbs, spices, citrus or fruits, and released into vinegars, honey or sugar.
To bottle up these beautiful and tasty treats, start saving salad dressing bottles, jam jars and wine bottles. Save the lids and soak off the labels, and you have containers to fill with your homemade flavor infusions. If you are short on glass bottles, ask friends to save some for you, or take a trip to a thrift store.
See recipes below for homemade, healthy and "less-expensive-than-store-bought" goodies that are perfect for holiday giving.
Cranberry Orange Vinegar
Flavored vinegars can add a tart, springy zest to winter salads, and they make great meat marinades. Or sprinkle some over oven-roasted vegetables. Try fruits in season now, like cranberries and oranges, or lemon and pomegranate.
1 bag cranberries
1 gallon white vinegar or rice vinegar
1 1/2 cups sugar
Grated rind of one orange
Pour cranberries into saucepan. Add 2 to 4 cups from the gallon of vinegar. If you use rice vinegar, be sure it's unflavored – that kind has much less sodium. Add sugar and orange peel. Cook on medium heat 10 to 15 minutes, until berry skins begin to split. Pour back into gallon container, mixing with remaining vinegar (it won't all fit, so put the rest in another bottle or bowl). Let sit 2 to 4 days. Strain out berries and put flavored bright red vinegar into bottles.
Infused Honey
Cinnamon and citrus peel brighten up a dark winter morning when you infuse their flavors in honey and serve over homemade waffles.
1-2 cups honey
2-3 sticks cinnamon
Finely grated peel from one orange
You will need a candy thermometer. Put honey, cinnamon and peel in a large glass or ceramic bowl. Microwave for one minute, stir and check temperature. Keep microwaving for short times until it reaches 185 degrees. Let sit until cool. Put into bottles and store in cool, dark place.
Vanilla or Cinnamon Infused Sugar
1-2 vanilla beans or 2 sticks cinnamon
1 cup sugar – white, brown or turbinado (coarse brown sugar)
Or sugar substitute like Splenda or Sweet'N Low
Put sugar or sugar substitute in container. Split vanilla bean in half lengthwise. Poke vanilla bean or cinnamon sticks down into sugar until covered. Wait 1 to 2 weeks, shaking occasionally. Use in tea, chai or coffee, or in holiday cookies or desserts.
The recipes in this column are meant for people who want to keep their kidneys healthy and blood pressure down by following a low-sodium diet. In most cases, except for dialysis patients, a diet high in potassium is thought to help lower high blood pressure. These recipes are not intended for people on dialysis without the supervision of a registered dietitian.

[Katy G. Wilkens is a registered dietitian and department head at Northwest Kidney Centers. She has a Master of Science degree in nutritional sciences from the University of Washington. See more of her recipes at www.nwkidney.org.]
Editor's Picks