You'll fall hard for this Texas burg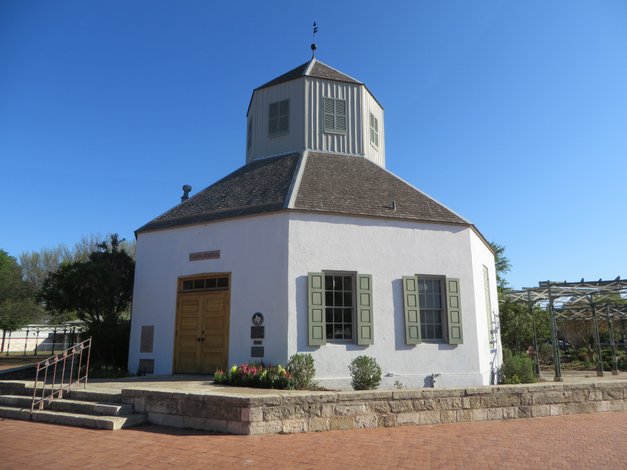 If you crave more history, head to the Lyndon B. Johnson National Historical Park in nearby Stonewall, where you can get an up-close look at the LBJ Ranch, along with the presidential residence dubbed the "Texas White House," the presidential hangar with its Air Force One aircraft, and the president's collection of classic cars. The first floor rooms of the Texas White House have been restored to the way they looked during LBJ's presidency. Notice the proliferation of telephones that exist around the house, even in the bathroom and under the dining room table. LBJ had to be in arm's reach of communication at all times and that also included having a trio of T.V.s lined up in various rooms, each set to one of the three existing networks. Johnson's clothes, as well as those of Lady Bird, hang in their bedroom closets and photos of family members and friends line the walls.
Your driving tour will take you to the president's reconstructed birthplace, the Johnson family cemetery where Lady Bird is laid to rest alongside her husband and Junction School, where Johnson began his formal education at the age of four and then returned as president in 1965 to sign the landmark Elementary and Secondary Education Act. The ranch, birthplace, cemetery and school are companion attractions to the Lyndon B. Johnson State Park and Historic Site, which is famous for its seasonal wildflowers and outdoor recreational amenities, as well as the Sauer-Beckmann Living History Farm. The farm is an authentic working farm, where park interpreters dress in period costumes and demonstrate the lifestyles of a typical Hill Country farm circa 1915.
For another opportunity to walk back in time, head to neighboring Luckenbach, the town made famous by the 1977 hit song, "Luckenbach Texas," sung by Waylon Jennings and Willie Nelson. Established as a trading post in 1849, this little hamlet is one of the oldest settlements in the county and consists of a dancehall, general store/post office and bar. Over the years, it has enjoyed continued notoriety for its free spirit, quirky ambiance and legacy of great music. Most days, you'll find folks sitting out in the back drinking a cold one and listening to an assortment of musicians strum, fiddle and sing under the old oak tree. And on weekends, the dancehall is the place to be.
If history's not your thing, rest assured there's a host of other options to explore in Fredericksburg. With over 150 stores and boutiques, choices abound for shoppers on the hunt for antiques, unique clothing, custom made cowboy boots, innovative interior décor items, handmade crafts and more. When you've shopped till you drop, know that you'll be able to get sustenance at one of the many restaurants, cafes and watering holes in town. The range of cuisine includes everything from German and Tex-Mex to Italian, BBQ and Asian fusion. For fine dining, try the acclaimed Farm Haus Bistro at the Fredericksburg Herb Farm or the much-lauded Navajo Grill. And for memorable pizza, opt for the West End Pizza Company. To satisfy your sweet tooth, make sure you save room for Clear River Pecan Company's award-winning homemade ice cream. The best beer in town can be found at Fredericksburg Brewing Co., which offers five excellent beers on tap, plus seasonal brews, along with a variety of freshly prepared foods. It's the oldest brewpub in Texas and sits in two restored 1890s buildings. On the second floor are "Bed & Brew" facilities, which consist of twelve rooms, each decorated in a different theme.