Energize Your Mornings with a Power-Packed Breakfast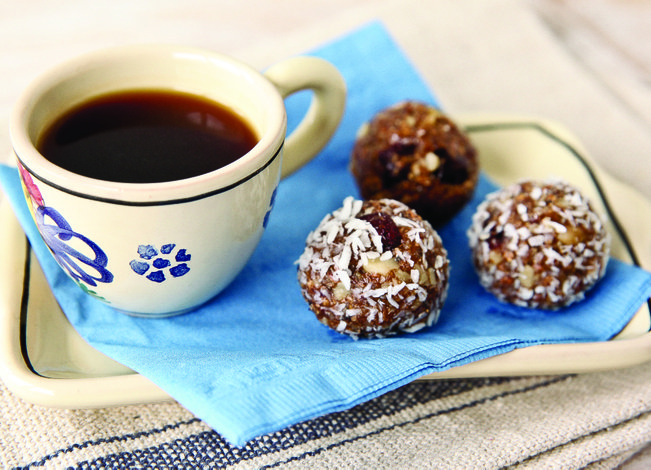 4 tablespoons almond butter
2 tablespoons honey
2 tablespoons pure maple syrup
2 tablespoons dried cranberries
1 teaspoon vanilla extract
2 teaspoons espresso powder
1/4 teaspoon coarse sea salt
1/4 cup toasted unsweetened coconut for rolling (optional)
Place cereal in a food processor. Process until finely ground. Add walnut halves, chia seeds, flax seeds, sesame seeds, almond butter, honey, maple syrup, cranberries, vanilla, espresso powder and sea salt to bowl. Process until well blended and mixture forms stiff dough. Remove dough and form into compact ball with hands. Form dough into 1-inch balls and roll in toasted coconut, if desired. Place balls on wax-paper lined sheet and let stand for about one hour, then transfer to tin or container with tight lid. Balls will keep for at least a week at room temperature, or they can be chilled.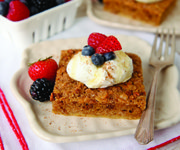 Cinnamon Breakfast Squares with Yogurt and Berries
Prep Time: 15 minutes
Total Time: 45 minutes
Makes: 6 breakfast squares
1 cup Honey Bunches of Oats Morning Energy Cinnamon Crunch cereal
1/3 cup whole wheat flour
1/2 teaspoon baking powder
1/4 teaspoon salt
3 tablespoons sugar
1/2 teaspoon cinnamon
3 eggs
1/2 cup nonfat milk
2 tablespoons melted butter, cooled
1 teaspoon vanilla
3/4 cup (6 ounces) Greek yogurt
3 cups fresh berries (blackberries, raspberries, blueberries, strawberries) or favorite fruit of choice
Honey, for drizzling
Nutmeg or cinnamon, for sprinkling
Heat oven to 425°F. Lightly butter and flour 8-inch square pan, or coat lightly with nonstick cooking spray. In mixing bowl, stir together cereal, flour, baking powder, salt, sugar and cinnamon. While stirring, slightly crush cereal using back of spoon or rubber scraper; set aside. In another bowl, beat eggs until well blended. Add milk, melted butter and vanilla; mix well. Combine egg mixture with flour mixture. Pour batter (it will be thin) into prepared baking pan. Bake for 18 to 20 minutes or until it is set when lightly touched in middle. Remove from oven and set on wire rack to cool for 10 minutes. To serve, cut into 6 equal-sized bars and place on serving plates. Top each square with a dollop of Greek yogurt, surround with fruit and drizzle with honey. Sprinkle with nutmeg or cinnamon and serve immediately.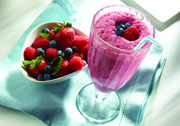 Mixed Berry Smoothie
Prep Time: 10 minutes
Total Time: 10 minutes
Makes: 4 servings
1/2 cup Honey Bunches of Oats Honey Roasted cereal
2 cups cold fat free milk
1 container (6 ounces) strawberry low-fat yogurt
1 package (4-serving size) strawberry flavor gelatin
1 cup frozen mixed berries
Place all ingredients in blender; cover. Blend on high speed for 15 seconds, or until smooth. Serve immediately.