Eat Your Flowers!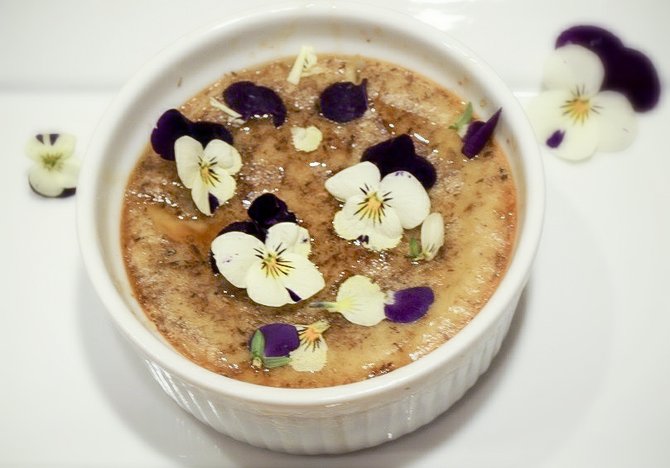 Introduce all flowers in small amounts to test for allergies. To store flowers, wrap petals in moist paper towels and place in an airtight container in fridge. Rinse gently before using and remove stem and pistil with tweezers.
Try this floral spring recipe:
Lemon Lavender Custard with Viola Confetti
A dairy-free treat made with coconut milk and gently sweetened with honey. A pretty end to Mother's Day brunch!
Ingredients:
2 eggs
1 15-ounce can coconut milk
Zest of 1 lemon
½ teaspoon dried lavender, ground in a coffee or spice grinder
1 ½ tablespoons honey
½ cup Viola tricolor flowers
Instructions:
Preheat oven to 350 degrees F. In a large bowl, beat eggs with an electric mixer until frothy, about 30 seconds. Stir in coconut milk, lemon zest, lavender and honey.
Divide mixture into four 4-ounce ramekins. Place ramekins in a glass baking dish and fill with hot water to reach halfway up the side of the ramekins. Bake 30 minutes, or until custard jiggles only slightly in center.
Remove ramekins from baking dish and cool in refrigerator at least 1 hour. To serve, drizzle with honey and top with whole and torn viola flowers.
Serves 4
Copyright 2014, A. Bermann, Original recipe
Reviewed by Cristen Harris, PhD, RDN and Cynthia Lair. Non-profit, accredited Bastyr University (bastyr.edu) offers multiple degrees in the natural health sciences, and clinical training at Bastyr Center for Natural Health (bastyrcenter.org), the region's largest natural medicine clinic.